A post-apocalyptic "Simpsons" comes to Stieren Theatre
In the theatre department's latest production, a mysterious electric fallout has ended modern life as we know it, yet "The Simpsons" — America's longest-running animated show and the new bedrock of post-apocalyptic civilization — endures. "Mr. Burns, a Post-Electric Play" debuts Feb. 16 in the Stieren Theatre.
The play, written by modern playwright Anne Washburn and first premiered in 2012, is supposed to incorporate a lot of modern elements into the show, reaching out to a wide audience. It contains social commentary, lots of little theatrical details and a common base for humor: "The Simpsons."
"There's been some kind of accident with nuclear power, and people have been dying. So what we have are some of the survivors who we are following in the play. It starts right after this has happened and people are gathered around a fire, and they're telling stories of 'Simpsons' episodes," said Rachel Joseph, assistant professor of human communications and theatre, who's directing the show. "In the second act we see them seven years later, and they are actually rehearsing: They have become a roving troupe that performs these 'Simpsons' episodes for people, plus commercials. Then we jump forward 75 years later and it's a performance of what 'The Simpsons' has become, which is almost like classical Greek theatre."
The performers only had seven weeks to rehearse the show, which includes a variety of musical numbers, intense set and prop use and challenging roles ranging from somber realism to extravagant pomp. The play's extreme versatility is a challenge for both the actors and the directors.
Luckily there are veteran actors, such has junior Nico Champion and sophomore Alex Oliver, as well as a promising amount of new talent in the chorus.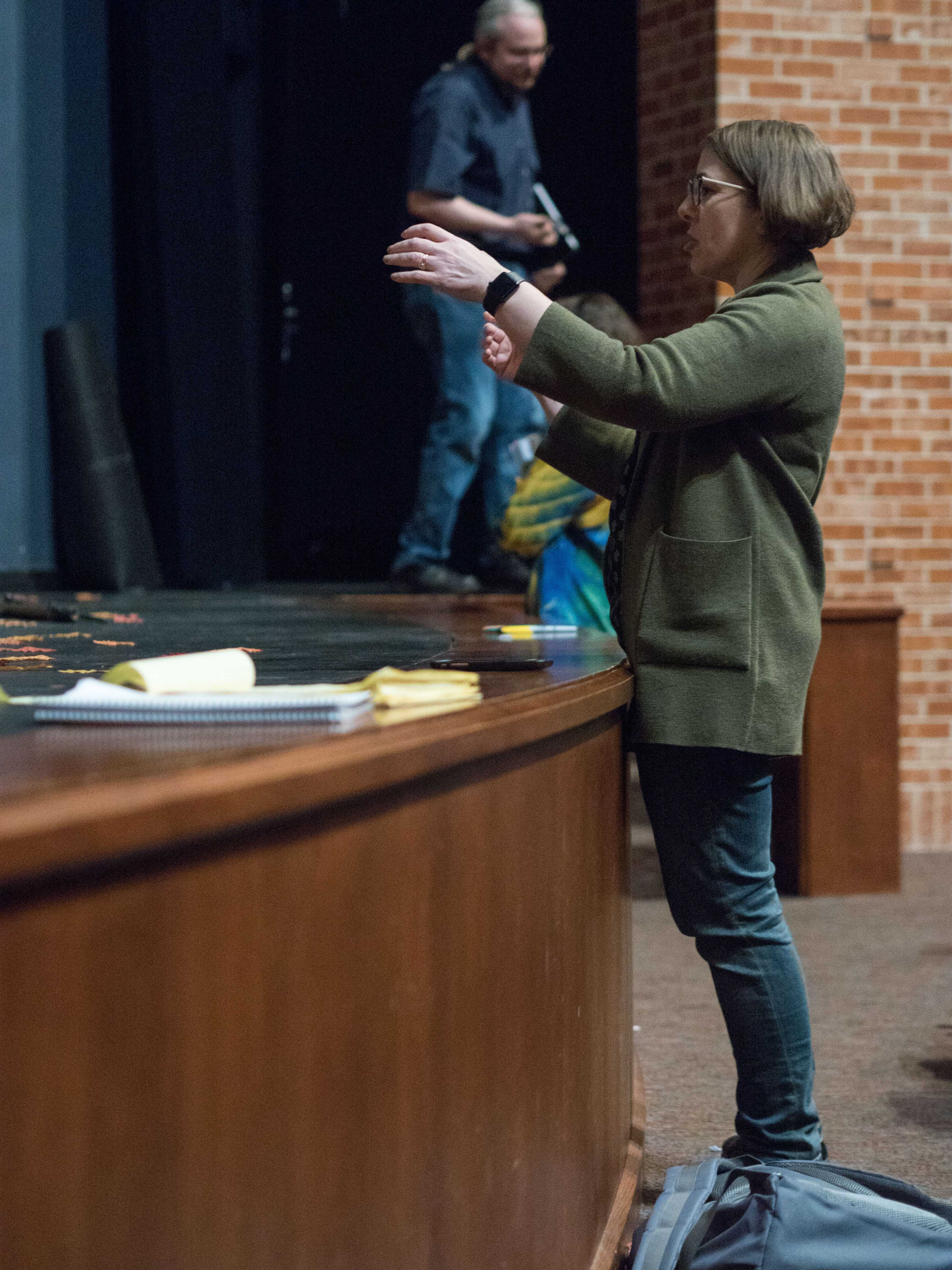 "It's really interesting just to read through it. It'll be something you'll be on the edge of your seat for," said Steven Owen, senior and cast member.
The Trinity company is also attempting to minimize their use of modern technology in order to mimic the conditions of the actors within the first act.
"What interested me about 'Mr. Burns' would be the meta-theatrical type things," said Sarah Bastos, sophomore and assistant director for the show. "For the first act we're going to have a soundscape of sorts, so we're going to have the sound of crackling fire; we're going to have gentle winds. Most of the sounds are going to be handmade, because in the show, everything that they're doing is done without electricity, so surely we can do it without electricity."
Bastos has also worked on the show's set in class, creating and decorating the post-apocalyptic world. The set is said to gradually increase in each act as civilization is reborn and order comes back to the world.
There is a lot of detail that help make the atmosphere of the show realistic. Bastos remembers helping hand-dip 20,000 fabric leaves into gray and dark colors in order to emphasize the general cataclysmic atmosphere.
"Even when the worst has happened and it's traumatic and it's awful, somehow civilization picks itself up, dusts itself off and continues in some way," Joseph said. "[The play] really says something about art as being something that's not just extraneous to life but that it's central to telling stories to get over big traumatic things that have happened. It has a sense of history and a sense of it's how they tell themselves stories about the past."
Bastos was similarly intrigued by what 'Mr. Burns' says about media's effect on society.
"It is a really, really strong commentary on how media influences our lives and how the common media that we partake in everyday influences us, and how they can influence us past what we think they will," Bastos said.
"Mr. Burns" seems to be a weird, interesting and smart show that has both elements of fantasy and reality that could really open up to a wide audience.
Leave a Comment