The "Mini" exhibits new student art
Nine Trinity artists present their artwork Thursday at the opening reception for the "Mini," a student art exhibit featuring installations including sculpture and painting.
Julia Poage, a junior double-majoring in art and English, is showcasing her work at the exhibit. (Poage was the Trinitonian's opinion section editor in 2017.) Her art focuses on the fragility and loss that affects the collective groups that we are a part of.
"In my piece, I talk about absence and mourning. In a semi-detached way, I'm talking about mass terror, like 9/11, Columbine and Sandy Hook and addressing the fact that our generation has grown up with these traumatic events," Poage said. "Since we were children we have seen horrors like 9/11 and Columbine and my piece talks about how we deal with that trauma and growing up in such a time with such public acts of violence and terror."
Abigail Wharton, a junior art major, is another contributor to the exhibit. (Wharton was a Trinitonian arts and entertainment contributor in the fall of 2017.) She did a partnered piece with Ariel del Vecchio, a junior art and art history double major.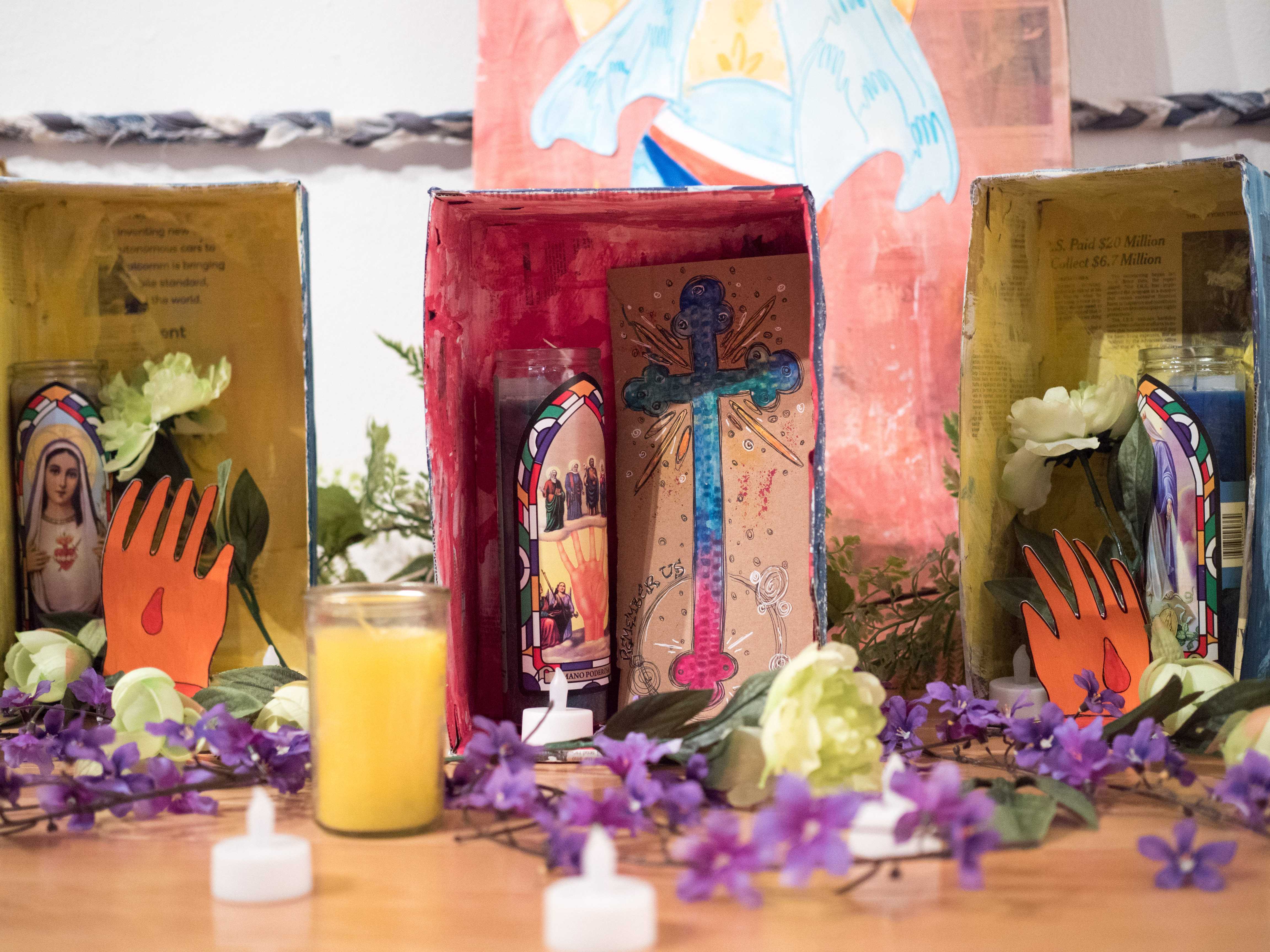 "Ariel and I are building an installation piece which is essentially an experimental sculpture. Ariel and I like to talk about gender and sexuality in the context of the cultures that we grew up in. Ariel is from Paraguay and grew up in a very Catholic family and I grew up in Texas in a very traditional southern Methodist family. Both of us really love the religious imagery and these traditions that we grew up with but found ourselves on the outskirts of them as we grew older. So those feelings and emotions are what we hope to create and make the viewer feel when they see our piece," Wharton said.
According to Wharton, the "Mini" has no official theme, but each of the pieces acts as a sort of puzzle, addressing certain issues and creating questions that can either be answered or contemplated.
"I would say a lot of the artists that are taking part in the 'Mini' seem to end up addressing similar themes in their work, like who we are and how we fit into certain situations. What I love about Julia's is that she really talks about 9/11 and Columbine and how those things are so salient in our lives and how we weren't really conscious of them growing up. Her piece is, in a way, answering the question of how those events affect us. For Ariel and I's piece, we are answering the question of who are we and where we fit," Wharton said.
While talking to the artists, they all seemed to love and appreciate each other's work as much as their own, building up each other's pieces and noticing similarities between them. Wharton talked a lot about how inadvertently, the group of artists all seemed to address a similar core idea.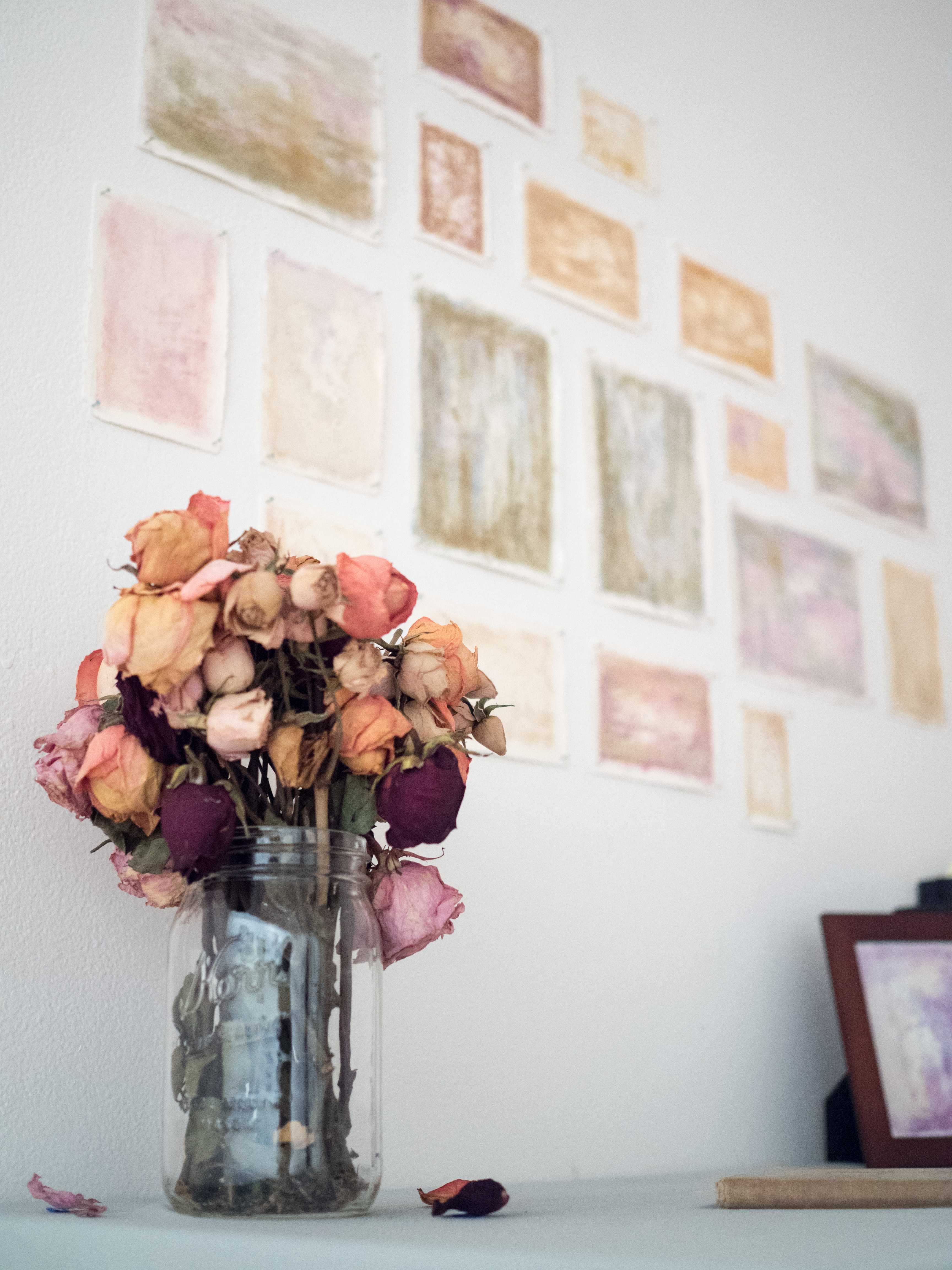 "Even though each of our pieces seem to be going in different directions or talking about different things, we all seem to come back to the same original question," Wharton said.
Art exhibitions generally have a goal or a theme in mind, yet the "Mini" was created more as an opportunity for student artists to express themselves and the showcase the incredible talent that Trinity has. But I wanted to see if the artists had a message that they hoped the viewers would take away, whether it be a greater appreciation for the arts or a more open understanding of a certain topic addressed in a piece.
"Well I hope they think about identity," Poage said. "Whether it's dealing with the concept of loss like Kristina and I are, or with Dinda and diversity in media and of women. The art pieces all are very personal projects from each of the artists and all address things we are really passionate about and an awareness to that and what they individually mean is, I think, the hopeful goal of the 'Mini.' "
The reception will be held between 5–7 p.m. in the foyer of the Dicke-Smith Building on Thursday, Jan. 25.
Leave a Comment