Finding a hate flyer on campus
I didn't think it was a hate flyer. I thought it was about sharing. To the extent it registered to me, it spawned half-thoughts of libraries, co-ops and Scandinavian democracies. It said: "Money does not rule you." Then there was an outline of a man in a suit who, instead of a head, had a dollar sign. I passed it on the way to my office.
But did it say something about Blood and Soil? I thought it did. Surely it said something against that loathsome phrase, which I knew was a Nazi rallying cry used recently by white supremacists in Charlottesville, Virginia.   
In truth I walked past the flyer rather quickly. In many ways it resembled flyers posted all over Trinity; flyers I myself post on campus, flyers I ask my student workers to post. I was still thinking about it as I walked up the three flights of stairs in Northrup and turned on my computer and poured coffee from my thermos.
Surely the flyer said something against the phrase Blood and Soil? Do I need to go back down to the first floor and look again?
This was on Dec. 4, about 7:45 a.m. The entire campus was busy finishing the fall term. At 8 a.m. I was still thinking about it. As I began to look through my email, Claudia Stokes, whose office I sit next to, walked in and directly addressed what I was only considering: "I found racist flyers on campus this morning." Then Stokes held up one of the flyers. This was not a subtle flyer. This was not a flyer about sharing, food co-ops or Denmark. There was no ambiguity about its imagery or language. This was a hate flyer. On our Trinity campus. "I think I found one, too," I said.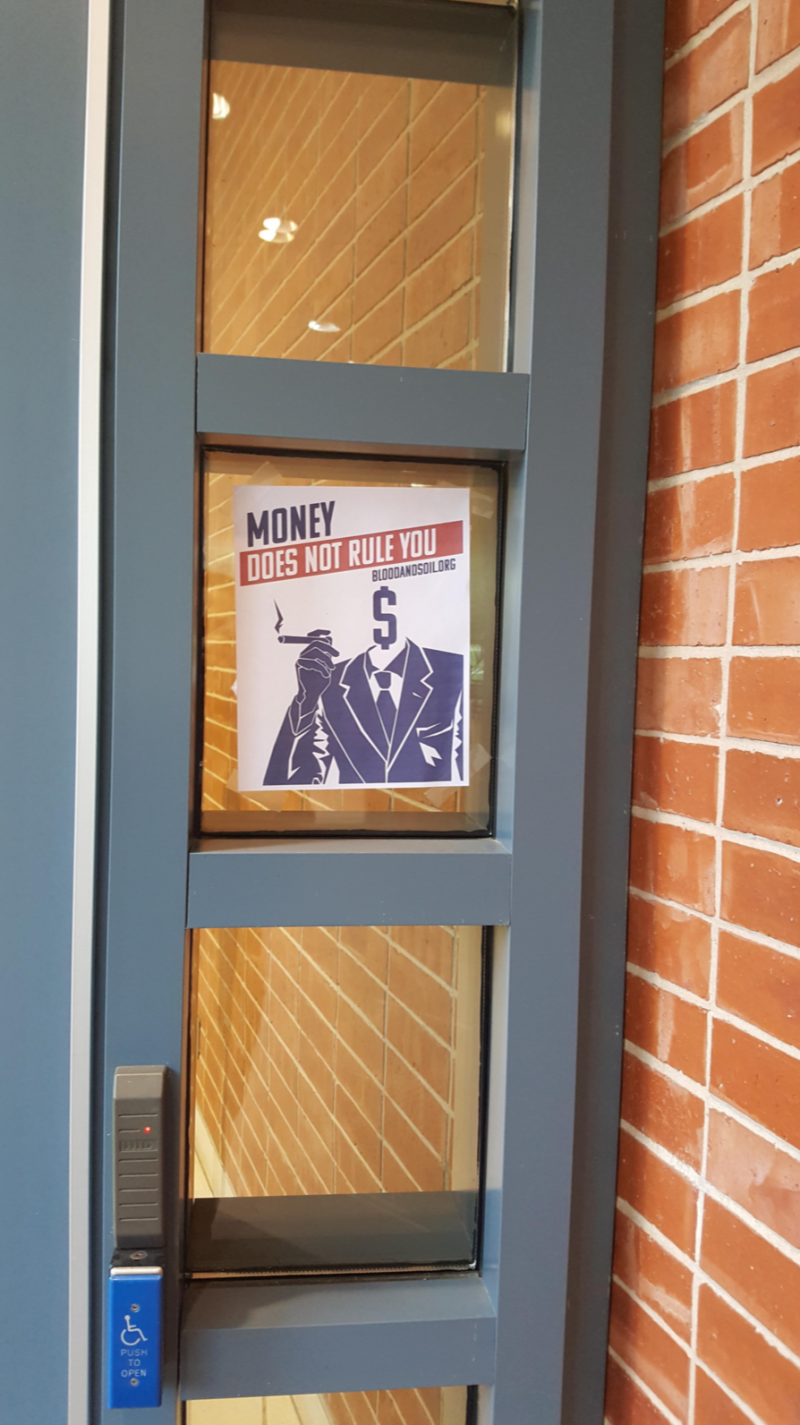 I really like working at Trinity. There is this famous exchange President John Kennedy once had with a janitor when the President visited NASA headquarters. "What do you do here?" President Kennedy, visiting NASA for the first time, asked the janitor. "I'm helping send a man to the moon," the janitor said. As a staff member at Trinity, every day I enter Northrup Hall I feel a similar purpose to the janitor. But instead of sending a man to the moon — or hey, how about a woman? — I help create a world-class liberal arts university. I feel my job is very important and everyday — however small — I have the opportunity to make an impact. And today I was going to help address these hate flyers.
So Stokes walked with me down to the hate flyer. I snapped a picture of it with my phone then took it down. We added it to the other flyers. TUPD visited the English department.Two vice presidents met with Stokes and collected the flyers. Then the San Antonio Police Department showed up. A student from the Trinitonian then appeared and had questions. At 10:00 a.m., Danny Anderson wrote a message to the campus about what happened.
From the point of view of this staff member, the hate flyers were treated swiftly and seriously. What happened then?
We continued.
View Comments (1)