Even though Trinity's official mascot is LeeRoy the Tiger, for a while in 2012 there was another furry face on campus that was almost as familiar: Jurgens the dog, an explosives detection trainee adopted jointly by Campus Publications and David Tuttle, dean of students.
It all started when Katharine Martin, coordinator of Student Activities and Student Edited Publications, brought one of the puppies that students were posing with in yearbook photos to David Tuttle, dean of students, who suggested that they should try to foster a dog on campus.
The puppies were being trained at Lackland Air Force Base to be explosives detection dogs, and when Martin signed Campus Publications up to foster one of these dogs for a year, no one knew what they were getting themselves into.
Bomb-sniffing dogs are not like regular dogs. When Martin and Tuttle fostered Jurgens, the dogs at Lackland were genetically engineered specifically for their bomb-sniffing futures. The dogs came with a very precise and demanding instruction manual that delineated how to raise, train, and socialize them.
Martin and her Campus Publications students, as well as Tuttle and his family, quickly became familiar with the process of training Jurgens to have a "toy drive": they would play with her for a short amount of time every day using a very specific toy, but then take the toy away immediately after. This created an almost manic-level desire for the toy, which Lackland trainers would then coat with bomb residue during the one week of every month that Jurgens was at the base. In this way, they trained Jurgens to have the same level of desire to find explosives.
For the three weeks out of the month that Jurgens stayed on campus, she was a handful. Martin remembers exercising Jurgens's boundless energy on long walks every day.
"I was so in shape that summer, because I would get to work a little later, but then at the end of the day I would walk her from like 7pm to 9pm, and then I would drop her off at dean Tuttle's house," Martin said.
Jurgens's characteristic stubbornness led to many funny moments while she was on campus. For example, Tuttle remembered fondly how Jurgens would refuse to respond to Martin's attempts to get her into her crate, resulting in Martin having to literally drag her into it. He also explained that taking Jurgens on walks could sometimes be frustrating.
"When she didn't want to walk anymore she would just lay down and roll over," Tuttle said.
Despite these differences in personality, Jurgens and Tuttle did form a close bond.
"I loved that dog. It was very hard to give her up," Tuttle said.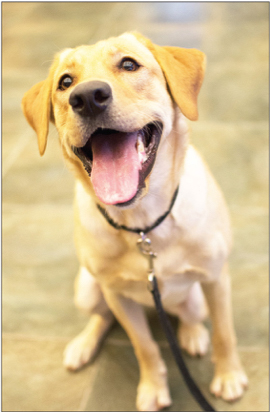 At the end of a year, Jurgens indeed had to leave in order to go through training with her handler, Robert "Kurt" Evans. Luckily, though, Tuttle and Evans get along well, so Tuttle has been able to see Jurgens since she's moved on to her very special duty.
Though she's been away from campus for a while, Jurgens still has a place here. In Tuttle's office, there is a "Jurgens wall" where students can see pictures of the loveable yellow lab. In addition, the wall holds pictures of family members of Jurgens' namesake Paul Jurgens, a victim of the September 11 attacks.
When Tuttle first learned of the origins of Jurgens' name, he tracked down Paul Jurgens' brother-in-law John Sheldon, with whom he immediately hit it off. Sheldon and his wife Alice (Paul Jurgens' sister) came to campus to do a program on 9/11 and to meet Jurgens the dog.
"The component of having the Sheldons as part of it was really a bonus we hadn't anticipated and one of the coolest things I've been involved with," Tuttle said.
Jurgens has followed in the footsteps of her namesake — who was a first responder in the 9/11 attacks — in serving our country. For the past five years, she has worked at international airports, high profile sports games including Super Bowl 50, and even the Republican National Convention in 2016.
Now the time has come, however, for Jurgens to retire. According to Evans, Jurgens was officially removed from service on Feb. 1, though her last day of work was Jan. 26.
"I took it easy on her during her last days of work and we really had a lot of fun together," Evans wrote in an email interview.
Evans, who is adopting Jurgens, has complex feelings about Jurgens retiring, though he is looking forward to this new stage of their relationship.
"I've definitely had my share of emotions knowing she will not be riding with me in the truck anymore. We've spent so much time together and I've spent a great amount of time and energy on training her and now that's officially over. She's definitely a special dog and I'm excited to see our relationship change as she adapts to 'pet life,' " Evans wrote in an email interview.
And in case anyone was wondering, yes, Tuttle has already volunteered to dog-sit.