A cappella groups discuss their artistic processes
For years, some of the first faces prospective students see when visiting Trinity have been the all-female AcaBellas and the all-male Trinitones. Aside from traditions like weekly Happy Fridays in Coates and concerts amidst the panicked storm and stress of finals every semester, Trinity's two a cappella groups also perform at numerous functions both around campus and around San Antonio.
According to senior AcaBella Camilla Manca and junior Trinitone Nico Champion, the AcaBellas was formed in 2007 by Lindsey Vande Hey and the Trinitones were founded by a handful of chamber singers on a tour bus in Germany in 2004.
Ever since then, the groups have been performing at events such as Trinity 360 tours for incoming first-years, Tower Scholars Day, the Trinity University Reception hosted by the Texas Music Educators' Association and, most recently, the 75th Annual President's Dinner.
The Trinitones have also performed at alumni Cullen Moore's senior recital, weddings for Trinity alumni and donor events.
According to Manca, the groups' busiest season is the winter holidays when they perform at on-campus events, such as the annual Christmas Concert, the Swing Bums' Yule Ball, as well as off-campus excursions, including at the Forest Hills Library and the McNay Art Museum's holiday party.
As one would expect for such a seemingly endless library of pop music knowledge, each short performance takes a large amount of preparation.
"We start by each suggesting a song that we think would translate well into a cappella music. Once we have a list of potential songs, an online survey is created and we each vote on our top two favorite songs, which usually results in a majority vote," Manca said.
Manca revealed that most of their music creation is done in-house with no single specific bandleader.
"Once the winner song is selected, one of us will volunteer to arrange the song. The arranger assigns each AcaBella a voice part to sing and directs rehearsals for that week. We take pride in our passion for both performing and creating original arrangements. This year alone, we have performed songs arranged by eight different AcaBellas," Manca said. 
The group has improved preparations compared to previous years.
"In previous years, we rehearsed on just the week leading up to Happy Friday, but this year we have increased rehearsals to every week in order to maximize productivity and to have more time to prepare and perfect each song," Manca said.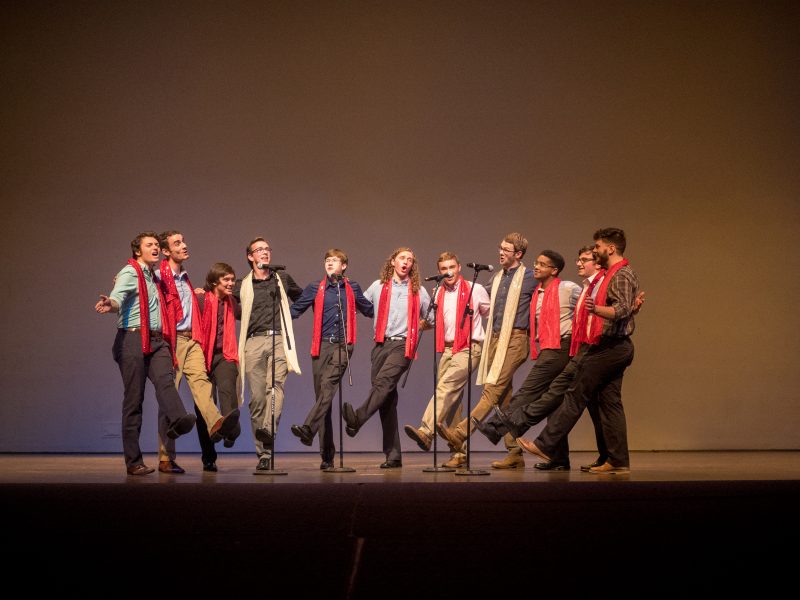 The Trinitones hold more frequent rehearsals to perfect their craft.
"We have one-hour rehearsals three times a week. We might do sectionals and split into basses and tenors, but most of the rehearsals consist of running the song or different sections of it and giving notes," Champion said.
Similarly, the group takes a "doo-wop it yourself" approach to creating their music.
"For the most part, the arranger will pick our upcoming songs, though this is also a group decision — people will suggest songs and we'll decide on one we're all interested in doing, then our arranger will gracefully make the arrangement," Champion said. "We've been fortunate enough to have two terrific, angelic arrangers — Cullen Moore and Reese Murphy — in our group for the past few years, so they'll bring in whatever song they arranged and head up the rehearsal. While the arranger usually runs it, it's a great group dynamic where anyone can feel free to speak up and suggest something." 
Given the greatly reduced members compared to a large choir, singing in an a cappella group is a completely different tune. Champion thinks that the community that the group has built overrides the challenges of singing in such a unique setting.
"An a cappella group is much more collaborative of a process than a traditional choir from my experience — we don't have a conductor, director or even a faculty adviser, so all of the instruction and learning comes straight from us. That can make a cappella a little more challenging at times, but the environment is so collaborative and supportive that the challenge is exciting and can be fun," Champion said.
Leave a Comment