A day in the life of the Strategic Communications and Marketing department
Tucked away in an upper corner of Northrup Hall, Strategic Communications and Marketing is Trinity's powerhouse of promotion. The university marketing department is involved with almost every aspect of Trinity's public presence, from social media and the website, to admissions marketing, to the Trinity magazine and newsletters like Tower News and Tiger Pride, to the Tiger Network.
With this diverse assortment of responsibilities, life in the marketing department is never dull. Michelle Bartonico, director of Strategic Communications and Marketing, explained that her day — which usually lasts from around 8:30 a.m. to 6:00 p.m. — can consist of many different things, but usually she deals with general oversight and project management.
"Most of my day is just operations; it's making sure that everybody on the team can do their work and has the resources to do their work, and I can block and tackle for them if they're having trouble or not getting answers for something," Bartonico said.
For example, one way Bartonico managed operations that particular day was a "production" meeting, where she and her colleagues Jeanna Goodrich Balreira and Joshua Moczygemba did organizational work on sports marketing projects; they also worked on implementing some new processes and workflows.
"As we grow and as we take on more work for the university, we need to be more agile and nimble and able to accept projects and be able to sort those projects based on priorities for the university, so I can make sure that we're spending our time and our resources and money on things that matter," Bartonico said.
Trinity is currently working toward a new branding campaign, so another big part of that workday for Bartonico was taken up with a branding workshop. In this workshop, Bartonico and the other participants discussed the experience that Trinity delivers to first-year students as part of a "stakeholder experience mapping" process.
"[That process involves] finding out what the experience is like and if that matches what we say we're going to deliver, because the worst thing we can do in marketing is to say 'Hey, here's what our product is' and then have it not match with that brand promise," Bartonico said.
Though the content of her work is often analytical and process-oriented, a large part of Bartonico's job also requires managing people, which flexes some different mental muscles.
"I really care about department culture, and it's really challenging to maintain — especially when you're hiring new people — so guiding principles are definitely part of the way to kind of maintain that and keep it intact," Bartonico said.
Those guiding principles include statements like "foster an atmosphere of creativity, togetherness and fun," and "be flexible, adaptable and accountable." To promote these ideas and really create the culture she strives for, Bartonico has set up several programs for her staff. One of these programs, Cre8 days, allows everyone in the department to take up to eight hours a month to do something creative.
"If I have a full week of super operations-heavy, process-heavy administrations stuff, I have to find some creative time. I know that about myself: I need to be more empathetic, so if I have full weeks of that, I go total business-minded, and I have to come out of that," Bartonico said.
According to Stephanie Enoch, senior manager of Web Development, Bartonico's efforts have paid off.
"This is the best work environment that I have worked in so far during my career. Knowing that I can come to work, be myself and work with others in the office that genuinely care about each other and are passionate about what they do, keeps me coming back to work every day … We also know how to work hard, but also have fun and make our projects enjoyable, " Enoch wrote in an email interview.
Jeremy Gerlach, brand journalist, also enjoys working on creative projects. Gerlach's job centers around stories: finding them, sourcing them, producing them and then figuring out what audience would most appreciate them. He likes this final step the most.
"As a journalist, I love listening to people, I love writing the story, but honestly my favorite aspect is working with our social media team to figure out who actually wants to read the stories … It's kind of like detective work, and you kind of have to put yourself in the mind of a reader, and that's definitely my favorite part of the job," Gerlach said.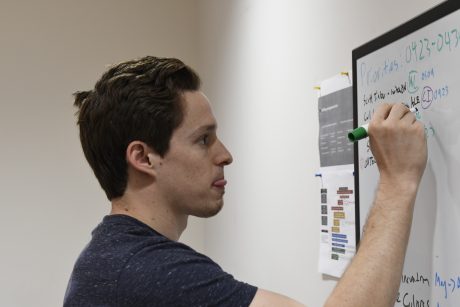 One of Gerlach's favorite stories that he's written is that of Harry "Bud" Holzman. Gerlach and his boss Jeanna Goodrich Balreira discovered Holzman when he wrote them an email with positive feedback about a previous edition of the magazine.
"[Balreira] started talking to him and we realized that he actually had a great story himself. So the story kind of snowballed. Basically, he was a geologist, who was a fighter pilot and a helicopter pilot in Vietnam, and he got shot down like five times and made it back every single time. We found out also that he went on to become president of this oil-drilling company, he served in Iraq as a counterintelligence agent like in his 50's, and he signed Saddam Hussein's arrest warrant," Gerlach said.
Gerlach loved the story because of the way that Holzman represents Trinity students' versatility.
"He's had such a crazy, kind of Indiana Jones-type career — like he's an academic but he's also been like a counterintelligence agent and a fighter pilot, so he's kind of multi-talented — and that's kind of what we've come to expect from Trinity students and Trinity alumni," Gerlach said.
Leave a Comment