Committees choose FYE and Student Research awards
With finals fast approaching, the library is beginning to fill with more and more students devoting countless hours to their final projects and papers. As the days drudge on, many may question why they dedicate so much time and energy to essays that their professor may only read once. The people who lead the First-Year Experience (FYE) Writing Awards and the Undergraduate Student Research Awards sympathize with students across campus and hope that their awards motivate and remind students that their efforts are meaningful.
The process of choosing award-winning FYE papers is long and thoughtful. First, Jennifer Rowe, HUMA professor and director of the Writing Center, removes the identifying information — including name and student ID — from papers and creates binders with the edited essays. Then, a group of student and Writing Center employees cut down the number of papers from the original group of 150 submissions to a "short-list" of thirteen. The faculty committee then chooses four winners who receive $200 visa gift cards and up to four honorable mentions who receive $50 visa gift cards. The awards are funded through the FYE program.
"We have this lengthy, in-depth discussion about the merits of each and what kind of promise we see in all of the young writers. At the end of the process, I read off the final list and if anyone has any objectives they raise them. If not, I go home and I get to write the exciting emails to the winners," Rowe said.
The committee attempts to choose papers that represent both the wide range of paper styles — research, short story and argumentative, to name a few — and the different FYE classes. Thus, the criteria for the papers remains flexible, so it can be applied to any kind of paper.
Willis Salomon, associate English and HUMA professor, was on the faculty committee that chose the winning papers. Salomon spoke about the criteria he had in mind.
"I was looking for essays that exemplified the learning outcomes pertaining to writing in the FYE. Is it clear? Is it well structured? Is it interesting, developed? Does it teach me something I didn't know?" Salomon said.
Like the FYE Writing Awards, the Undergraduate Student Research Awards also are given out every year to writers of exemplary papers. However, the Undergraduate Student Research Awards are reserved for authors of research papers. From the group of winners, one student is awarded $1000 visa gift card, two students get $500 visa gift cards, and three students get a $100 visa gift card. Additionally, award-winning papers are preserved in the library archives. The competition is headed by the library staff who hope that the awards inspire others to do thoughtful and high-quality research.
Benjamin Harris, professor and head of Instruction Services, spoke about this objective.
"Not only are students doing this amazing work, finding things, coming up with amazing arguments, bringing information together in their projects, but you can do it too. I hope people are inspired when they see these papers. It's thrilling," Harris said.
The FYE Writing Award winners included Ty Krieger, Erin Cha, Pouya Mohammadi and Avani Sastry. The Honorable Mentions were Luke Eakin, Alexander Lowen, Wilfred Nelson and Sam Reuter. The Undergraduate Student Research Awards went to Nhi Nguyen, Thomas Harvell-DeGolier, Zabdi Salazar, Beth Legg, Margaret Chase, Malcolm Conner and again, Avani Sastry.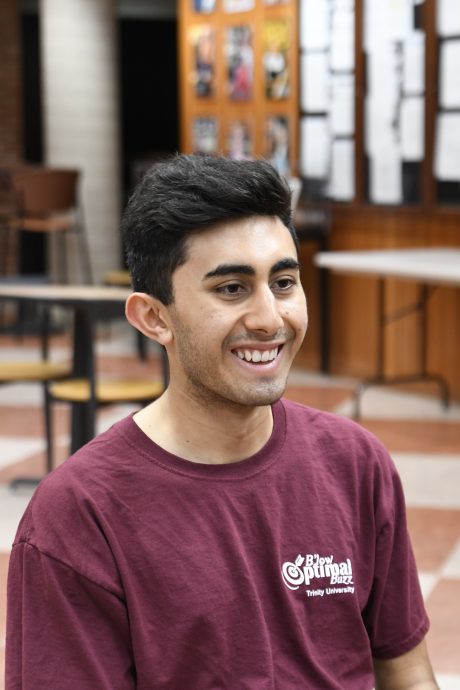 Sastry, first-year, remembers spending weeks on her dual award-winning paper, "A Legacy of Fear: The Fusion of Fascism, Futurism, and Cold War Mythologies in Nuclear and Spatialist Art".  Her paper explored the cultural and political facets of spacial and nuclear art. She looked at how fascist ideologies and other influences were manifested in the art.
Sastry was in the Science Fiction FYE and enjoyed talking with her peers about the books and films she'd always wanted to discuss. For Sastry, writing an essay about her passions was hard work, but she appreciated the opportunity to do it.  
"I was in an art history class and I was thinking about doing an art history major. So, I thought it would be cool to do something about art history and science fiction. It was kind of a 'for fun' thing for me. It took a while, but I think it was worth it," Sastry said.
It's a win-win for both parties. The students enjoy receiving the awards and the faculty members have a good time throughout the whole process.
"The award decision day is my favorite day of the year. A lot of the writing in the fall can really feel like a slog. There's so much writing in the FYE and it's hard and you have to put so much effort into it. So to have something really positive and happy come out of that I think is really exciting for them. I love to be the one to tell them. It's really fun," Rowe said.
Leave a Comment