The Theatre department's first Mainstage production of the year, "Small Mouth Sounds" by Bess Wohl, is simply beyond words — literally. The mostly silent play, directed by Kyle Gillette — assistant professor of Human Communication and Theatre — is making its debut on Friday.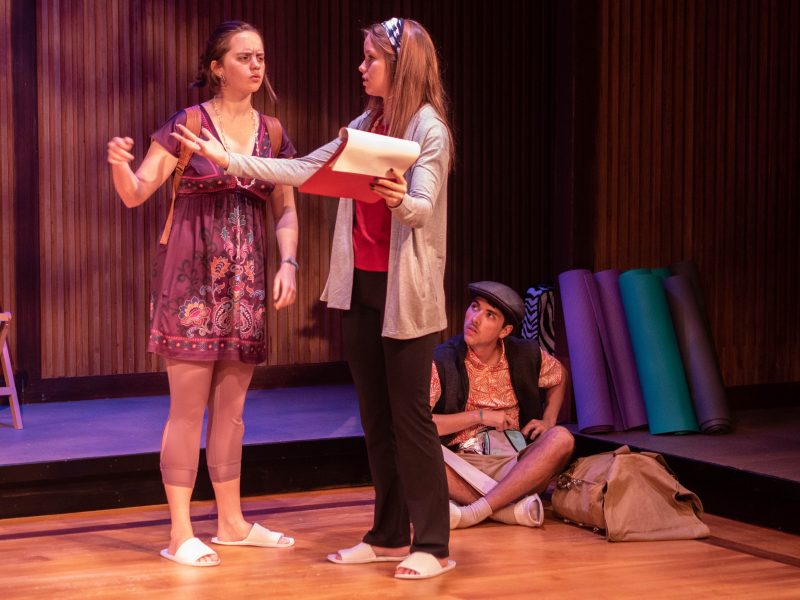 The plot centers around six distinctive characters, including a middle-aged lesbian couple, a Finnish immigrant and a down-on-his luck outdoors enthusiast; this group embarks on a silent retreat to find refuge from the hardships of life. Guided by a mysterious yet vulnerable teacher, the characters learn more about themselves, each other and the difficulty of communicating without words.
In keeping with the play's minimalist attitude towards dialogue, "Small Mouth Sounds" will also be performed in a smaller space — the Attic Theatre instead of the Stieren Theatre. The venue will provide an intimate performance where students can see the facial movements and body language of the characters, aspects that matter more in a play with less dialogue.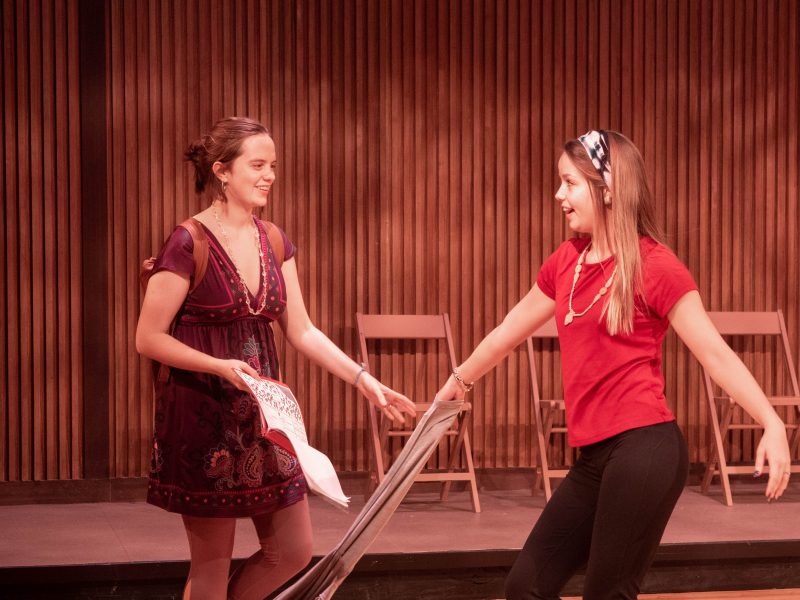 The characters' emotional turmoil also shapes the play. Wohl's official character descriptions begin with an author's note specifying that "Everyone in this play is in some kind of agony. … They have come to this retreat in the hope of finding some sort of relief. This desire should feel very real and immediate throughout the action of the play."
Kody Nace, senior, spoke about how the actors have learned to embody their characters.
"About every rehearsal, we do a meditation before we run through it, so it's like we ourselves are also at the retreat," Nace said. "Kyle [Gillette] had us all get journals, and we'd write in them outside of rehearsal and in rehearsal, and we actually use them during the play."
Addie Coldiron, sophomore, plays the character Alicia, an energetic young woman who finds herself struggling to cope after a recent life event. Coldiron spoke about Alicia's personality.
"Alicia's a very loud character, just in general. She projects herself onto whatever scene that she's in, and the people that she's with," Coldiron said. "It's been very interesting really getting into her head and figuring out how she thinks, especially since this play has been challenging in ways that other theatre I've been involved in hasn't been, in that there's not so much dialogue, so [I] really have to know my character."
Coldiron gave some examples of questions that she considers when playing Alicia.
"How does she hold her hands when she's sitting? Does she wear her hair up or down? Does she make a lot of eye contact?" Coldiron said. "It's been challenging, but I feel like working with [Gillette] and other actors is also helping me grow as an actress, so it's been fulfilling as well as interesting."
Mindy Tran, senior, is the production stage manager for "Small Mouth Sounds." As production stage manager, Tran oversees rehearsals and facilitates communication between the director, actors, crew members and designers of the play, as well as running the sound and light cues during the show itself.
Tran said that from her perspective, everything is going smoothly in preparation for this Friday.
"Things are going really well. This show felt like it went super fast. It felt like we just started rehearsing two weeks ago, and now we're opening this week, which is very crazy," Tran said. "Right now I think the actors are doing well with adapting to the sound cues and lights and costumes, because it is different to rehearse in costume and not in costume. The set is piecing together, finally. We have all our props, which is good. I think we're at a very good place to open on Friday."
Coldiron expressed anticipation for the opening night of the play.
"I'm excited for our opening weekend. It's getting closer and I didn't realize it was this weekend until last week, and I went, 'oh, that's close!', but we're ready," Coldiron said.
"Small Mouth Sounds" opens Friday, Sept. 28, at 8 p.m. Curtain times are Friday and Saturday at 8 p.m., Sunday at 2:30 p.m. and Wednesday and Thursday at 7 p.m. Tickets are $12 for adults, $8 for seniors, faculty, staff and alumni and $6 for students. Students who want to make reservations for the show or have any questions can call 210-999-8415, email [email protected] or visit the official TU Theatre website.