Photo by Kate Nuelle
TriniD&D began with just a few friends wanting to play Dungeons & Dragons (D&D) together. When juniors Trace Glorioso and Andja Bjeletich became involved with the group during their first year at Trinity, they never imagined that the club would become a Registered Student Organization (RSO) or grow to over 100 members.
Bjeletich said people get involved by joining the TriniD&D GroupMe where games are advertised and memes are enjoyed by all. Today, the TriniD&D GroupMe has grown to 180 members. A few members gather at a time with mile-high stacks of pizza and game campaigns that can last for weeks. Bjeletich is president and Glorioso is secretary of the organization.
D&D requires imagination, allowing players to create their own worlds and characters either in one-shot games whose quests last through one sitting or campaigns whose stories continue every time players return.
"Right now, I'm running a space campaign that involves Baby Yoda and this bean you have to protect with your life, and it should take the rest of this semester and maybe a little into next," Bjeletich said. "I know of at least four or five campaigns going on including my own."
D&D is a key plot point in the Netflix series "Stranger Things." According to Glorioso, the attention from "Stranger Things" has helped the club's numbers grow in size. After a surge of members came from the Fall Student Involvement Fair, the club has hosted workshops to help new people learn the game. New members are always welcome.
"We'd really like to bring new people in, people who are interested in Dungeons & Dragons [who] saw the opening of Stranger Things and saw them playing and [said], 'Oh, that looks fun,'" Glorioso said. "We want to bring those people in and help them learn how to play the game if they're interested in it."
Although D&D has gained some pop culture clout, players haven't always been so comfortable advertising their love for the fantasy game. Bjeletich said she's lucky to go to a school with a large enough nerd population to have a club like TriniD&D.
"I've been very excited about D&D probably since, like, middle school, but I was always like, 'I'm not going to tell anyone I play this because it's an embarrassing thing and they wouldn't understand it,'" Bjeletich said. "It's cool to be a part of a community where this is not only accepted but we're excited about it and we're going to talk about it and we're just going to let ourselves be as nerdy as we'd like to be."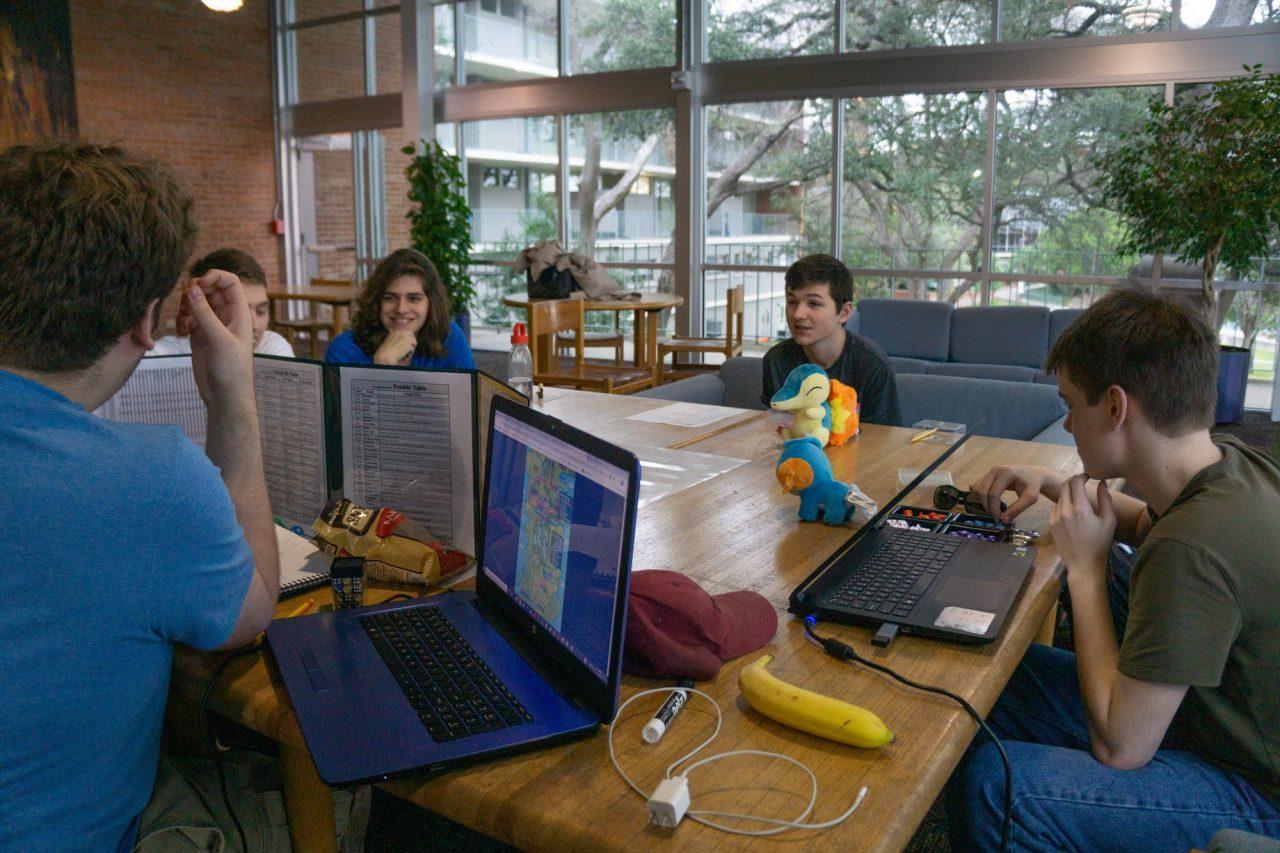 Before first-year Nathan Mihalski came to Trinity, his cousin taught him how to be a dungeon master. Dungeon masters set up and lead D&D games, but their job only matters if there's players to play the game, something Mihalski lacked in high school.
"For me, before this, it was quite hard to get many games, except I was experienced," Mihalski said. "You can't just play it alone. I know how to run the games, but I didn't know that many people to run them with. The club kind of solved the players issue because everyone wants to be in a game."
Mihalski, now TriniD&D vice president, said he loves meeting new people at Trinity who share his passion for D&D. One way of doing so, according to Glorioso, is just by playing games that introduce players to each other and their characters. The creativity involved in the game is one of Glorioso's favorite parts.
"If I want to alter the fabric of space and time with my magic, I can do that," Glorioso said. "If I want to be a valiant hero who can slay the dragon or something like that, I can do that. What's great about Dungeons & Dragons is that you don't have to stay in this 'Lord of the Rings' style, high fantasy setting. You can go anywhere with it."
Recently, TriniD&D has teamed up with the Swashbucklers, a living community and social organization, to use Heidi Lounge for monthly game nights. While different campaigns and groups playing one-shots get together every weekend, Glorioso said their first game night all together included multiple one-shot games of D&D, assorted board games and card games and, of course, lots of food.
"I have never had that much fun in college before that point," Glorioso said. "It was just wonderful, and I really hope we can keep those memories coming for the years to come."