Chapel Spiritual Life starts panel series
Photo by Kate Nuelle
Spiritual worldviews and scholarly pursuits may seem like they would be separate, but a series of panels hosted by Chapel Spiritual Life (CSL) seeks to emphasize overlap between the two.
The Scholarship and Spirituality series features Trinity faculty discussing how their academic lives interact with their worldviews. The first installment of the series occurred this past Tuesday, Feb. 18, in the Waxahachie Room, and featured professor of physics and astronomy Dennis Ugolini, adjunct professor of psychology Rose Jennings, and advising coordinator in Academic Affairs Lapétra Bowman.
Senior Juan Antonio Kamel moderated the panel. He first asked the three panelists to describe their worldviews. Bowman said she believes in a collective consciousness and values existentialism as a guiding philosophy.
"Basically the saying is that 'existence precedes essence,' that I am before everything else," Bowman said. "If I don't like the direction my work is taking, I am the sole creator of my journey."
Ugolini said that a variety of life experiences led to his distrust of organized religion. These life experiences included going to a Catholic school and getting into a fight with his gym teacher when he was nine.
"And then the head priest telling my mother that they would forget about it for a reasonable donation to the church, and then pulling my mother off of the priest, and then getting thrown out of that school," Ugolini said.
In terms of beliefs, Ugolini said he just tries to solve more problems for people than he creates.
Jennings was the only panelist who belongs to a particular faith. She identifies as a Bahá'í, a religion that originated in Iran in 1863 and emphasizes unity.
"One of the overarching teachings is that now is the time for mankind to be more united," Jennings said. "With each manifestation of God, with each prophet, that has come along, there's been kind of a new message of unity. So when Jesus came along, he was all about the brotherhood of man, at a more national, smaller level. And then with all of the prophets you see a different message of unity."
The panelists went on to discuss how their spiritual lives have influenced their scholarship.
"I knew that if I pursued that which I loved and I knew that I had the power to create myself, then everything else would fall into place," Bowman said. "So, when students come in to meet with me in an advising session, they find a 44-year-old woman … who wants to invite you to create yourself."
Jennings agreed, saying that she is always asking how she can serve others. She read a quote from Baha'u'llah, the founder of the Bahá'í faith, which read in part, "The knowledge of such sciences, however, should be acquired as can profit the peoples of the earth and not those which begin with words and end with words."
"I think about that a lot in academia and teaching classes and doing research," Jennings said. "Unfortunately, there's a lot of words that just end in words. I have to think about that in my own life: Is this going toward action?"
Ugolini reflected on his experience teaching a First-Year Experience (FYE) course on pseudoscience and critical thinking with former Trinity chaplain Stephen Nickle, citing this an example of science and spirituality can compliment each other.
"The first time we taught that, it was five STEM faculty and Chaplain Nickle, and I was so glad he agreed to do that, because I liked that it put right front and center the idea that science and spirituality did not have to be in opposition," Ugolini said.
Perhaps the most dynamic segment of the panel came when the three faculty members were asked if they had advice for students.
Ugolini told a story about his own experience post-graduation: Ugolini was married on a Thursday, graduated on a Friday, and on Saturday, drove with his wife to his new job at Stanford University. Then, the job fell through. He only had $400 to his name, and his parents had disowned him because they did not like his wife. He started looking for a new job.
"Finally, I ran into a guy," Ugolini said. "He said, 'Oh, you know, this is really convenient because I just joined this other project and they got all this software and I don't want to learn this crap. So here, you learn it and you teach it to me and my undergraduate students.'"
The man who hired Ugolini ended up becoming his graduate school adviser.
"My life has changed since that day, just because that was the one guy I happened to run into," Ugolini said. "But the other thing is, I only got that because I refused to leave."
Bowman offered advice based on her experience advising students. Bowman believes that many students have normalized the feeling of "drowning."
"Disconnect this feeling of productivity with anxiety," Bowman said. "Do better with fewer things. Ultimately, self care is important."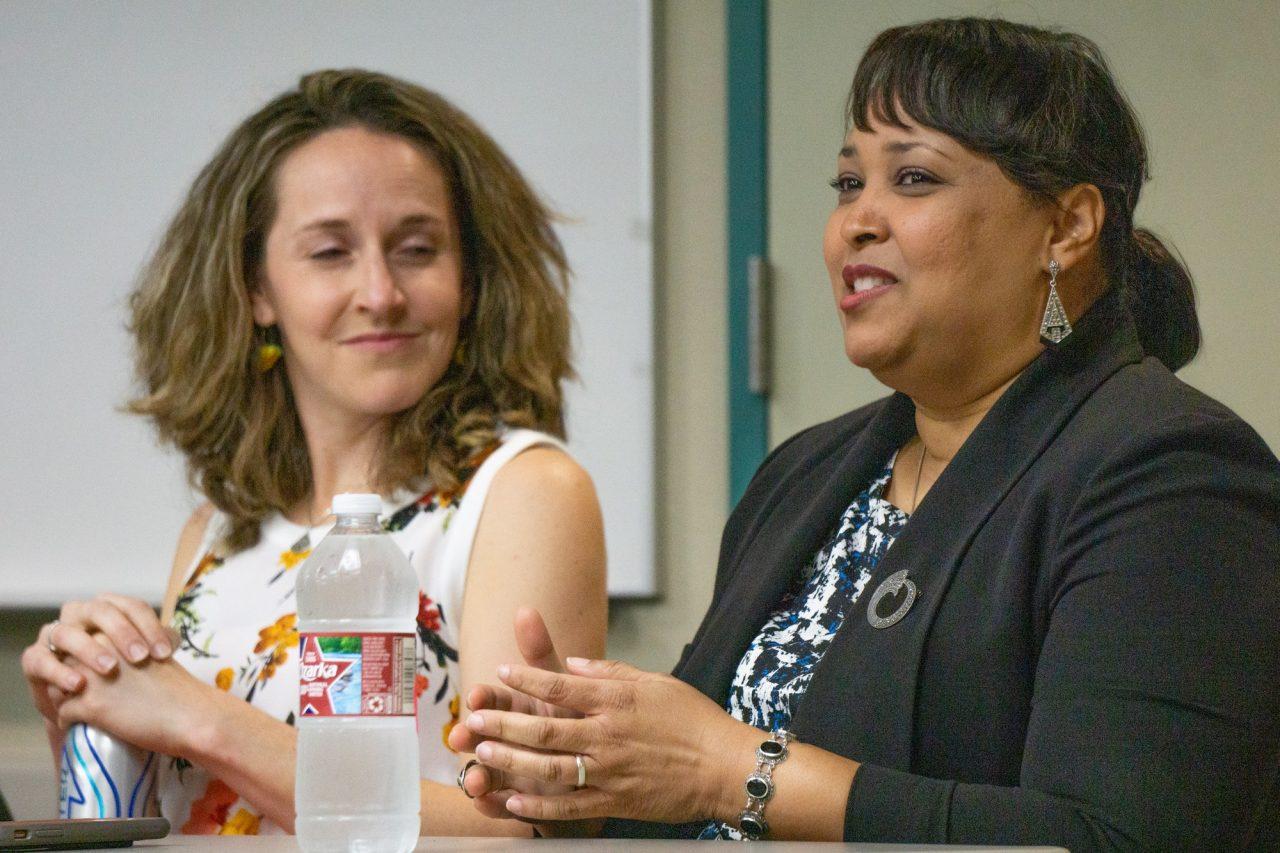 Agreeing with Ugolini and Bowman, Jennings commented on the importance of flexibility.
"Sometimes we get hit on the head with why we have to be flexible, like when you become a parent," Jennings said. "It can be a gradual thing, but it definitely assists in figuring out your life."
About 15 people were in attendance at the panel. Junior and CSL Fellow Maureen Gallington said she enjoyed hearing a diverse range of faculty perspectives on spirituality. Unlike the panelists, Gallinton identifies as Christian, but she still found herself agreeing with many of the panelists' points.
"I [liked] that they talked about how Trinity has a culture of 'if you're not stressed, then you're not doing something right' … it's nice to hear them say that it's a problem," Gallington said. "It's refreshing to hear them say that they don't want that for us."
Senior Adam Toler is also a CSL Fellow, but he serves on the general spiritual life team. In his position, he prioritizes integrating dialogue about philosophical worldviews with conversations from the perspectives of various religions. He felt that the panel was effective in achieving this goal.
"I was very intrigued by the fact that we didn't have any of the larger religions. There were no Abrahamic religions — no Christianity, Islam or Judaism," Toler said. "I'm glad we had people who identified as not religious because it shows that there is an ability to think about deep life questions. That conversation can also happen in a conversation about religion as well, which is important on this campus because religion is usually politicized."
CSL will host two more Spirituality and Scholarship panels, one per month, over the rest of the semester.
Leave a Comment