Former president Calgaard leaves large legacy behind him
On April 10, 2020, president emeritus Ronald K. Calgaard died following a brief illness. He was 82 years old. In an attempt to display his legacy, we dug through the Campus Publications archives.
In the Dec. 1, 1978 issue of the Trinitonian, Ronald K. Calgaard was introduced as Trinity's new president. The search process for this position took two years, but according to the reporting, Calgaard was quick to accept.
"I am delighted to answer in the affirmative," was Calgaard's response to the Board of Trustees' offer.
When he elaborated on his acceptance of the position, Calgaard said, "We were very much impressed by the people and the opportunities. I saw that there were extra opportunities at Trinity and the possibilities of doing something there that would make a difference."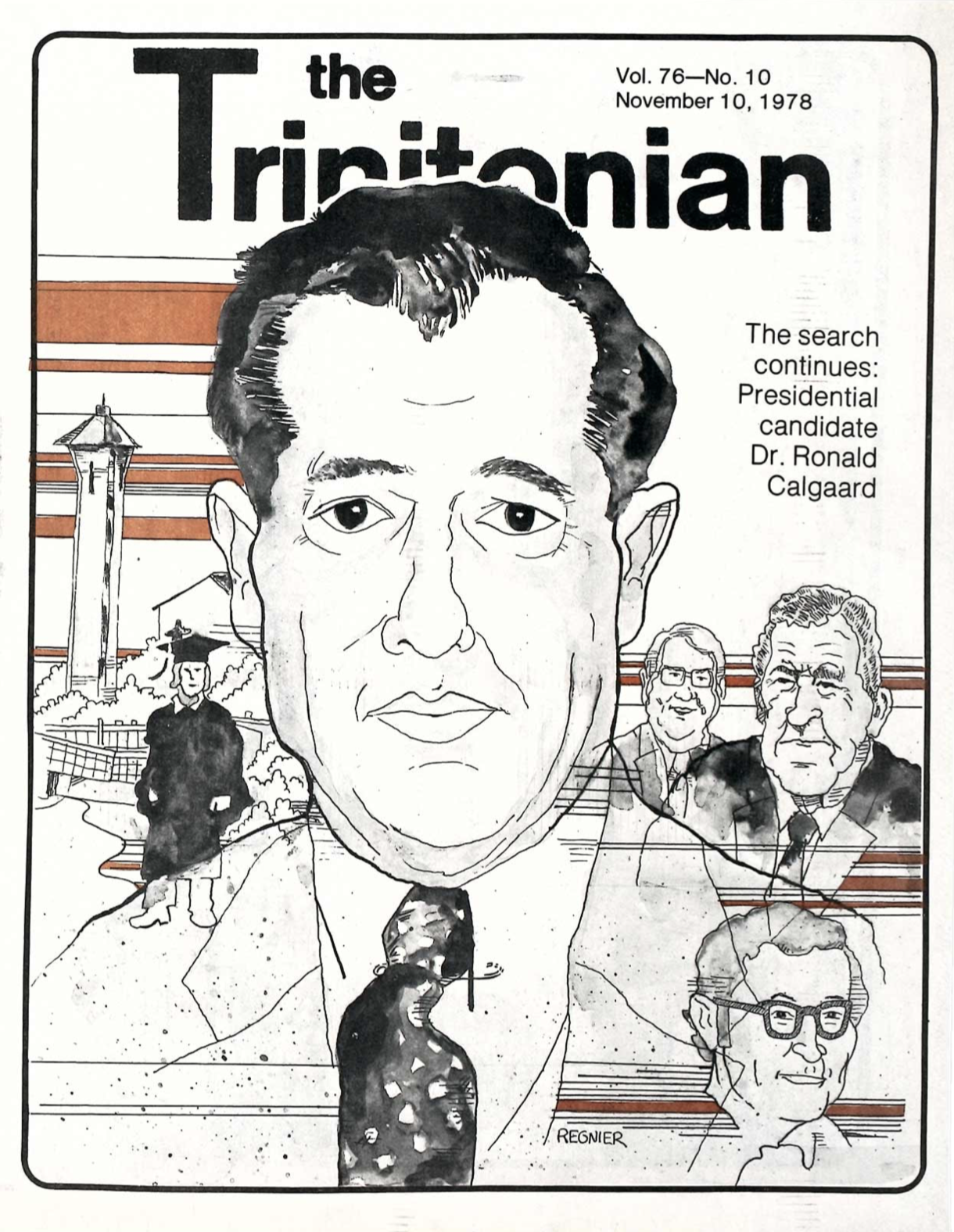 Calgaard acted as the university president for two decades, from 1979–1999, a term so lengthy that he has earned the title of longest serving president in the university's history.
On Calgaard's inauguration day — February 15, 1980 — then-dean of students Coleen Grissom wrote in to the Trinitonian about the new president:
"I believe Calgaard will lead us in attracting high-quality faculty, staff and students; that he'll be successful in raising substantial financial support; and that he'll never let anyone wonder what Trinity's purpose is."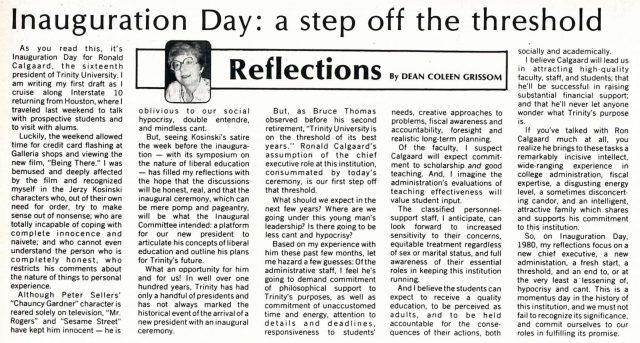 Grissom saw in Calgaard "a remarkably incisive intellect, wide-ranging experience in college administration, fiscal expertise, a disgusting energy level, a sometimes disconcerting candor and an intelligent attractive family which shares and supports his commitment to this institution."
In the 1999 Mirage, the year Calgaard stepped down from the president position, he explained his content with what the next president would do:
"I believe in one president at a time," Calgaard said.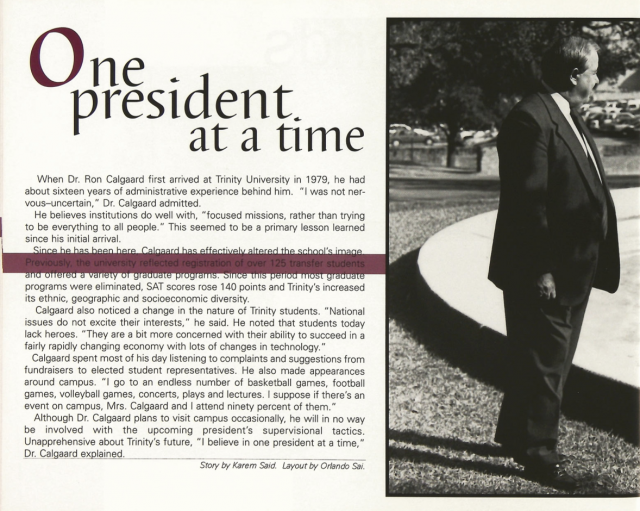 In the university's official announcement regarding Calgaard's passing, it recognizes all of the good work Calgaard did in his time as president:
"Calgaard transformed Trinity into a residential University that greatly improved the sense of community among students, raised the admissions standards, and increased the geographic, ethnic, and socio-economic diversity of the student body. Trinity also aggressively recruited National Merit Scholars, which brought the University wide acclaim in the national media. Under Calgaard's leadership, Trinity became a national leader in Division III intercollegiate athletics."
But even beyond his tenure, Calgaard was present at Trinity events.
"The Calgaards continued to support the University financially and through their participation at campus events. Trinity's Board of Trustees celebrated Calgaard's legacy through an unrestricted scholarship and a professorship in his honor, as well as a rededication of the new Ron and Genie Calgaard Performance Gymnasium," the university's announcement reads.
According to the university, Calgaard is survived by his wife of 60 years, Genie; daughter Lisa Sands and her husband Peter and their son Eliot; son Kent Calgaard and his wife Francie and their daughter Kathleen.
A celebration of his life will take place at the Margaret B. Parker Chapel. A date has not yet been determined.
View Comments (2)