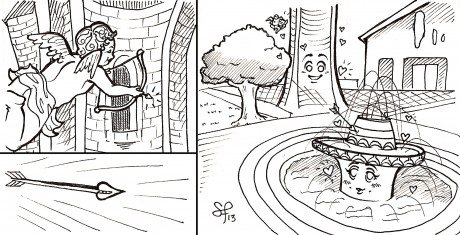 In the Oct. 5 editorial, "Voting is sexy," we encouraged you to get out and vote for the next President of the United States, arguing that there were real issues impacting our livelihood that needed your attention. Now, we're hitting even closer to home and urging students to vote for the next Association of Student Representatives between Feb. 25 and March 2 in Coates. To simplify the process, we've broken it down into easy steps. Here are five things you should do between now and Election Day:
1) Understand the influence that ASR has. In Dean Tuttle's Nov. 20 blog entry, "Student Government – What a Mess," the silver fox quoted his predecessor, Coleen Grissom, as saying ASR has no power, but a lot of influence. Now, it's safe to argue that some ASR administrations have been more successful and productive than others, but in terms of transparency and overall accomplishment, this has been a pretty great year for ASR. With strong leadership demanding a new level of professionalism and organization, ASR was able to tackle a variety of campus issues ranging from the strategic plan to the bollards (ahem, they're still up) and the funding of $623,546 worth of programming and student organization costs.
2) Catch up on your reading. If you don't already read the ASR briefs printed in each issue of the Trinitonian, you should start. There's a lot of insight to be gained from tracking what goes on each week during ASR's meetings, and aside from knowing where your money (the student activity fee) is going, it will be helpful to know what goes through the minds of senators when considering requests if you ever have to apply for funds yourself. You should also consider revisiting last year's election guide, (Pages 6-7 of the March 2, 2012 issue) found online through our archives. See if this year's ASR lived up to their campaign platform promises, and be sure to check out the newest election guide with candidate bios and responses to campus issues, out Feb. 22.
3) Go to the debates. We're not sure what all this will entail, but it should be informative, if not entertaining, since the current president, Joe Moore, says he wants to see it get heated. Regardless, it's a way to get your dose of campus politics in a relatively efficient and animated way.
4) Consider applying for ASR yourself.  Aside from being an obvious resume booster, being a part of ASR affords students a lot of opportunities including meeting with higher-ups, being in on the action when big decisions are made behind closed doors about things like the strategic plan and getting to hang out with Dean Tutts each week, oh, and the possibility of really making a difference on campus. So, who knows?  You could be the next great ASR senator, cabinet member or maybe even president (assuming Joe Moore doesn't fail a class just so he can stay behind and continue to rule over us all, just kidding"¦kind of). But act quickly–the deadline is today at 6 p.m. Applications can be found online at the Trinity website.
5) Vote. You might not think it's a big deal, but when you consider how much is at stake, you should. Having control of more than $500,000 definitely impacts campus life. Either cast a ballot in Coates between 10 a.m. and 2 p.m. during the week of Feb. 25, or resign yourself to not complaining when you're frustrated about campus issues. You have the power to effect change and to decide who the governing voice of the student body is""don't take it for granted.