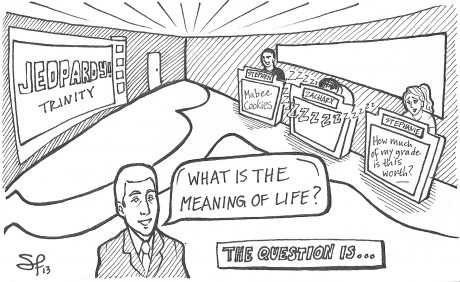 Despite what the recent hail storms and tornado watch may lead you to believe, spring has finally sprung on Trinity's campus. This week's major Greek life announcement (see "Four previously suspended Greeks return to campus," Page 1) and a final resolution with a previous issue (see "New leadership elected after set of APO elections," Page 4) certainly support a changing community climate.
Last spring, when allegations against the four sanctioned Greek organizations first came to light, the campus climate was anything but sunny as the administration and student groups clashed over their differences of opinion.
As Gabby Shayeb, a senior Gamma, explains in her column this week, "A year in the life: Lessons learned from reinstatement," (Page 7), this trying time forced many students to revaluate their beliefs and their feelings toward Trinity.
The conflict wasn't short-lived either; Dr. Fischer's announcement of a reinstatement plan last May made it clear that "winter" was coming (there's a "Game of Thrones" reference for all you fans). While the opportunity to rebuild was certainly exciting for the sanctioned Greeks, it required the understanding that critical conversations were ahead, and a hard look at the fundamental structure of their organizations was necessary. During this time, the groups were, in many ways, isolated from the Greek community, watching from the sidelines as traditions like recruitment and bid day carried on without them, and questions of when or if a thaw would ever occur remained unclear.
And then, this year, just as actual spring began to take hold, the administration announced the return of Gamma Chi Delta, Chi Delta Tau, the SPURS sorority and Bengal Lancers. Colors previously missing have returned to campus with the promise of a new beginning and a fresh start, and administrators, students and alumni have all expressed their high hopes for their organizations' futures.
Still, the stipulation of a probationary period makes it clear that "spring" will likely last three more years. As the community observes the Greeks putting their plans into action, we will finally be able to measure their true growth. Hopefully, when "summer" arrives at the end of three years, we will see a stronger and wiser group of organizations that remembers its past and the hardships endured with knowledge of how to prevent them from happening again.
The same goes for Alpha Phi Omega. As Edwin Blanton, coordinator for community service and engagement and chair of the APO advisory board, discusses in this week's article, "Student organizations and organizations in general go through a forming, storming and norming stage."
The sanctioned Greeks and APO aren't the first organizations to have internal problems and they won't be the last. But if there's anything this year has taught us, it's that while focusing on our actions and related consequences are important to our personal and organizational growth, it's unhealthy to dwell on the hard times, and "spring" can only begin when the "winter" has ended.
We congratulate our peers on their efforts to rebuild and wish them well in their new beginning.