Fall fashion
I decided to do a fall photoshoot on our campus with some Trinity students: sophomore Natasha Muppala and juniors Walker Lands and Eleanor O'Shei. The photoshoot incorporates some of the trends that I wrote about in my previous article, "Fall Fashion for the back-to-school season." Regardless of it being a sunny and warm day, I did not hesitate to style them in fall classics like knit sweaters, turtlenecks and bomber jackets. They might have complained a little about dressing for 70 degree weather when it was 90 degrees out, but they will thank me later when they post the bomb(er) "" no pun intended "" pictures, taken by junior Jack Parker, on Instagram.
I wanted to give the photos not only a fall feel, but a back-to-school, looking-cool feel, so I did the shoot on the bleachers by the football field. I dressed Lands in a jiggy red quilted bomber jacket, which dominated the runway for fall-winter 2017 fashion week. That jacket looked like something a 1950s greaser would wear, so Walker looks like an actual rebel without a cause  ""  yes, I just made a James Dean joke.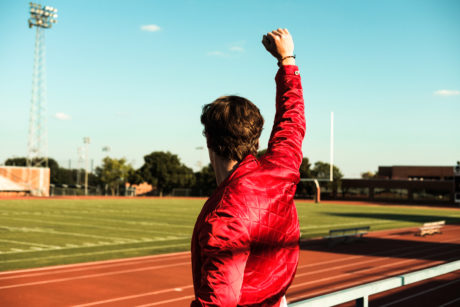 For the ladies, I wanted to continue with the red since it's this season's color. So I had Muppala in boss-lady-like red pants with a black sweater. Then, O'Shei in all black, but made it a little cute and country by having a red bandana, a western classic, tied around her neck.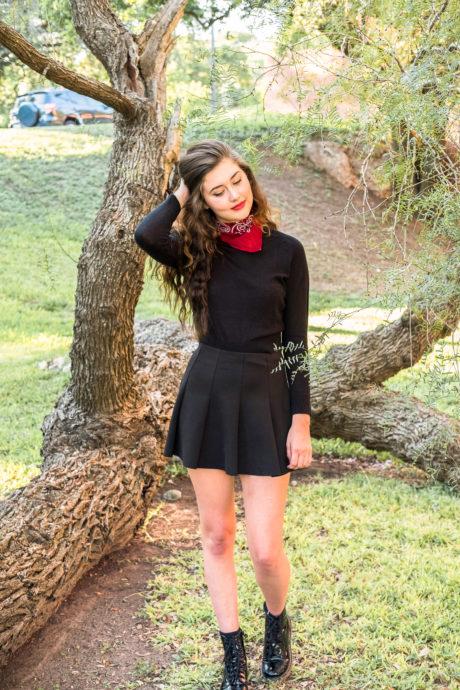 I think these looks are trendy and easy pieces to find at stores like H&M or Nordstrom. They can go well on a dinner out to Pizza Classics with friends, studying at Rosella or even for giving a presentation in class.
But regardless your style and taste, have fun dressing up this fall because it's more than just boots and scarves!
Leave a Comment