My Trinity family tree
It's family weekend, which means a lot of parents are on campus "" upperclassmen flee while first-years welcome Mom and Dad into the dorms hesitantly, shoving piles of dirty clothes into the corners of their closets. Mabee overflows with families clad in maroon and white. It can be weird to see parents after being surrounded by teen and twenty-something students for so long.
I know many students look forward to leaving home for the first time, but I was different. It was a challenge for me to leave the comfort of my home, going to a place I wasn't sure about, surrounded by other young people. The thought freaked me out. For so long in high school I was not "˜cool,' and didn't have a group of really close friends. I was a bit of a roamer, hopping from friend group to friend group without really sticking anywhere "" but for me, college is different in that regard. Now, my friend groups represent everyone I know, everyone I see daily, and my "˜new' family.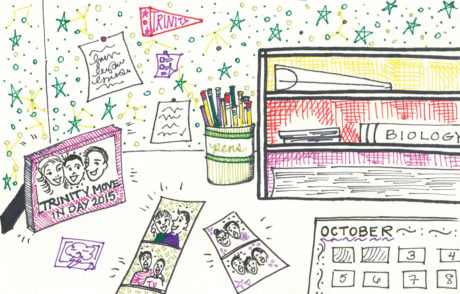 But I didn't initially know if I would ever really find family outside of my home. My mom was definitely my best friend "" no shame in saying she still is. Coming home from class every day without having her advice, guidance and delicious food "" was obviously terrifying.
All that dissolved after the first few weeks. It took me some time to appreciate the joy of complete autonomy, but there is something exhilarating about doing what you want. Finally, you get to make all of those stupid decisions your parents told you not to make: sneaking out late at night to be with friends, impulsively spending money on going out and partying (a little). It didn't take me very long to realize how grateful I was for certain rules, namely in regards to sleep. I realized how lucky I was to have parents whose values taught me how to live a good life. Even though I have changed in other ways during college, the fundamental daughter I was before starting at Trinity hasn't changed.
Our resident mentors are a huge part of creating hall cohesiveness "" they take students on trips around San Antonio and lead group activities during the first year at Trinity. It was like the most fun summer camp I had never been to, full of interesting new things to do, classes to take and people to meet. My first year hall was always together. We would meet in Mabee all the time to eat together, play soccer late at night and play ping pong in the lounge. It was a unique group, and now that I live off-campus, I miss the community that develops in the residence halls at Trinity. I wish it was still as easy as walking a few feet and knocking on a door to see my friends.
I hope by now the first-years are settling into the pace and life at Trinity, and their phone calls home are short and full of "Mom, I love college!" If communication between you and your child changes, know that it's probably because they are going to hike on the weekends with O-REC, checking on a beehive with the Trinity Bee Alliance, learning to cook with the Italian Club, or partying "" responsibly, of course "" on the weekend. And hey, who knows, they might even be studying.
Scratch that, they are definitely studying. This is Trinity, after all!
Leave a Comment