Photo provided by Douglas Brackenridge
Our 150th anniversary celebration creates incentives to reflect on significant events in our history. One such event is the birth of the Trinitonian, now in its 119th year of operation. Apart from annual university catalogues, it is our longest lasting campus publication. While it has undergone format, content and frequency of publication changes over the years, it has remained the source of firsthand information about campus life and an outlet for student concerns and interests.
The Trinitonian made its debut in December of 1900 when Trinity was located on the Tehuacana campus. Previous student newspapers had been short-lived but the Trinitonian staff hoped theirs would be long-lasting. The first issue of the Trinitonian was a 40-page magazine style monthly periodical measuring six and one half by 10 inches. It featured student submitted essays on topics such as "The Model Man," "Our Mental Possibilities," "The Educative Value of the Latin Language" and "Music: Its Place in Education." The remaining pages were devoted to an editorial, campus news items and excerpts from peer student publications from throughout the country. Subscription prices were $1 a year or 10 cents for a single issue. Over time, June commencement issues served as forerunners of the annual yearbook, the Mirage, which appeared in 1919. The June issues included photographs of faculty, staff, graduates, student organizations and athletic teams and a narrative of the year's events.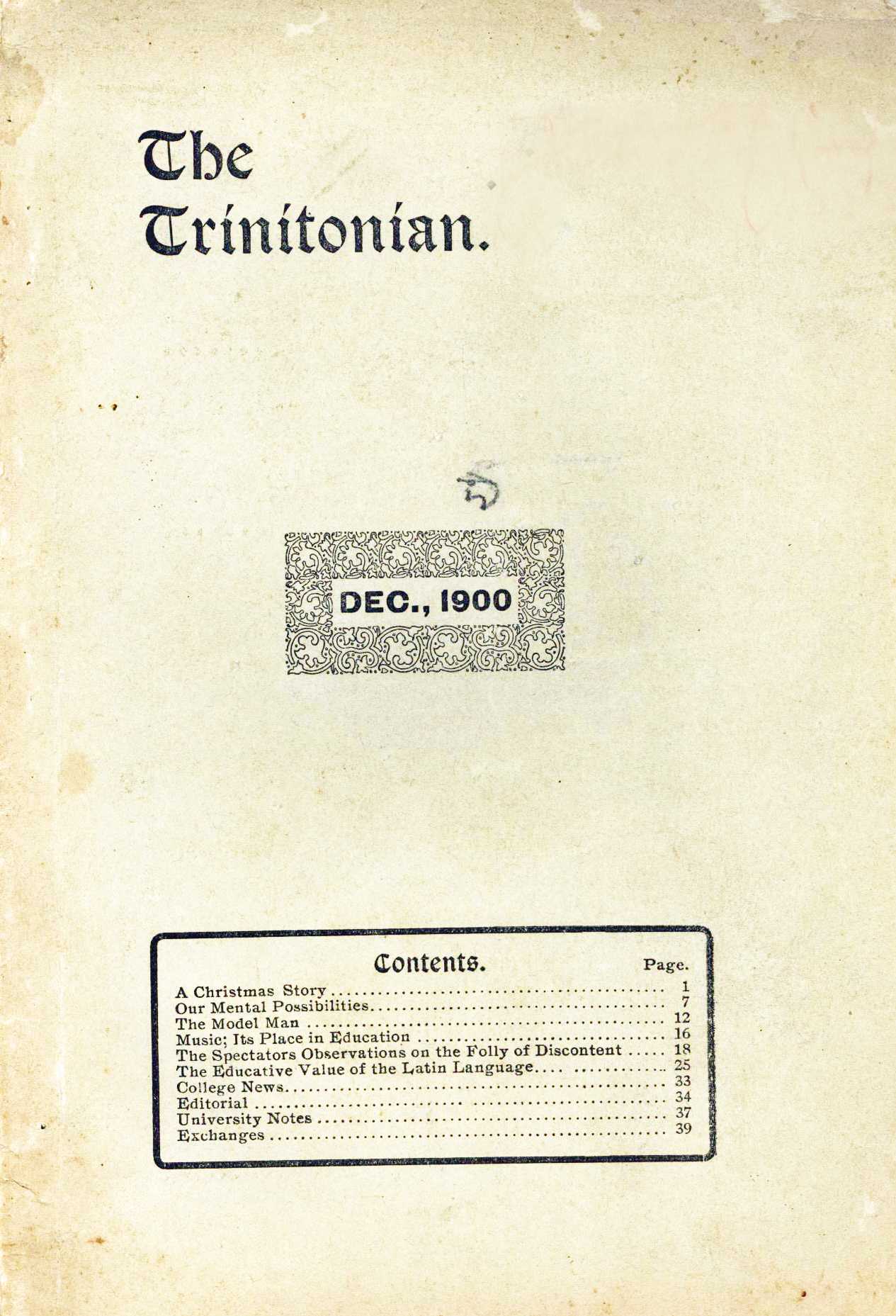 The first editor-in-chief was W. B. Beard, a ministerial student who became a missionary teacher in the Philippine Islands. Associate editors were members of the male and female literary societies and the business manager was a young faculty member. The literary societies were the heartbeat of student social life on a campus devoid of athletics and fraternities or sororities. They maintained their own meeting rooms and met frequently for discussions, debates and social conversations. Each society had its own colors, mottos and college cheers and competed for prizes at public events during the school year.
The editors gave special attention to two campus news items; one on athletics and the other on curricular innovation. They proudly announced the opening of an exercise room for men (no women) that they deemed "essential to develop a strong, symmetrical physical body along with the intellectual and moral development" and the construction of two tennis courts that were "well occupied during recreation periods." Although Trinity lost its first intercollegiate football game to Baylor University by a score of 17–0, the editors expressed confidence the team would have a have a winning season next year.
The second item dealt with the trend to incorporate elective courses into college curriculums, a controversial academic issue at the time. Traditionally, students faced four years of prescriptive courses set by the faculty. Trinity had recently permitted seniors to designate two electives to be decided by class vote, not individual preferences. Trinitonian editors affirmed that "a prescribed course of study that brings into play the various activities of mind, is far better for the student and college. The prosecution of an elective system so early as the sophomore year may be good for a genius, but not for ordinary young men and women."
The rhetoric of its first editors may appear antiquated to modern readers, but their journalistic goals retain contemporary relevance and remind us of the importance of maintaining foundational values during constant change. Here are a few excerpts from the first editorial page:
"It is our supreme desire to make the Trinitonian a truly representative college magazine … we promise, that in every number, the subject matter of the journal will be the product of our highest endeavor and maturest thought."
"It is our ambition to make it a mighty lever in prizing events of school and church into being … and it is also to make it a mirror in which we may observe ourselves and each other, and thereby correct mistakes, remedy faults and make the greatest progress possible. With these noble purposes in view, the Trinitonian awaits the verdict of our people."
"Let every student feel it is a duty to contribute articles to our magazine. It is an instrument by the school for the school … Take plenty of time in preparing articles, so its correctness and appropriateness cannot be called into question."
"The editors being human, shall make many blunders, for which they expect to be criticized. But we beg that your criticism be of that helpful sort which encourages to stronger and nobler effort; and not of the kind which steals all hope and pride and enthusiasm to make our work a success."
Beyond the elevated language of the editorial page, associate editor Alice Whitley summed up her feelings about the new publication in four words:
"Hurrah for the Trinitonian!"