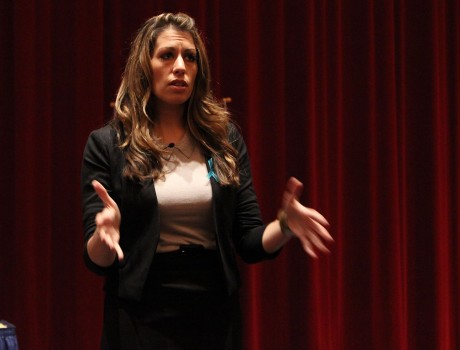 On Wednesday, Oct. 24, rape awareness advocate Natalie Ehmka addressed Trinity University students in Laurie Auditorium. Ehmka was raped during the summer between her sophomore and junior year of college. The experience prompted her to begin speaking to young people about the importance of sexual assault awareness and prevention.
The E3 — Educate, Embolden, Engage — Initiative hosted Ehmka as a part of their CODE T.E.A.L event in support of a campus-wide sexual assault awareness week.
E3 founders Avantika Krishna and Anna Van Buskirk decided to invite Ehmka to campus after they read an article she wrote about her assault. Krishna and Van Buskirk felt that Ehmka's story was powerful enough to connect with college students.
In addition to speaking to students about sexual assault awareness, Ehmka is the CEO and founder of Pretty Feisty, an organization that helps "girls prepare for college, and empowers women to be bold, feminine and feisty out in the world."
Ehmka was impressed with Trinity's handling of Sexual Assault Awareness Week.
"I think this event really speaks to the forward thinking of the university," Ehmka said. "I applaud the university and E3 for hosting this event, and I hope the message I talked about tonight continues to spread."
Sexual assault awareness week continues Sunday with Alpha Chi Lambda's self defense workshop from 1 p.m. to 4 p.m. in the William H. Bell Athletic Center. Contact Avantika Krishna for more information.
Corrected Nov. 2, 2012
This article initially stated that the CODE T.E.A.L. events were held in support of national sexual assault awareness week. The events were actually held in support of a campus-wide sexual assault awareness week.