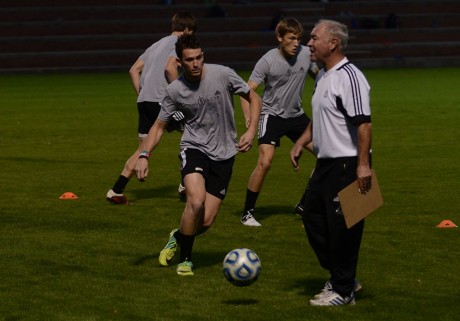 Although it's only February, Trinity's fall sports teams are fighting the wintertime blues by getting in top shape for the regular season.
Volleyball
The women's volleyball team is starting practices earlier than last year. Players do sprint and conditioning workouts twice a week and weights twice a week. The team practices as a whole three times a week, where they play games of three-on-three or five-on-five.
"We're doing a lot more playing in general and really emphasizing getting back into shape," said junior Erin Cusenbary. "We have a schedule: practice, work out together Monday and Thursday, which was something we didn't do last year."
The volleyball team signed up for a tournament at the beginning of March, which also marks the first week of spring season. The team has an additional tournament on Saturday, Apr. 13, where they will compete against local teams like the University of Incarnate Word and St. Mary's University.
"Spring season consists of normal practices, four days a week," Cusenbary said. "We get to play with coach and it's basically like a normal season practice, just a little less intense."
Football
The football team maintains a strict regimen of weight-lifting three times a week and early morning sprints twice a week. In March, the team starts a two-week session of practices which consist of drills such as running routes and going through plays.
"Since we don't really pad up in the spring, we mainly just throw the ball around and stuff, but we do have competitions," said sophomore wide receiver Matt Kennemer. "We'll do seven-on-seven and one-on-one. Not really any games, just small competitions to keep things competitive."
Soccer
Likewise, the women's soccer team combines a schedule of individual workouts, practices and games. Later on in the semester, the team will play in-state schools, such as the University of Texas and Texas Southern University.
"So far this semester we have been holding 3 kick-arounds per week; these are informal, fun sessions, but we try to maintain a high level of intensity," said junior Jenni White in an email. "We also do cross-fit workouts at Body Armor to complement our soccer training regimen."
The men's soccer team trains through individual workouts provided by assistant coach Thomas Cartee, which players are supposed to complete on their days off. Additionally, the team practices three to four times a week, either late at night or in the afternoon.
"As a group we warm-up and do some conditioning and fitness," said junior Yuri Ribeiro. "After that, we do technical stuff, like ball passing drills, and then we finish off by playing each other in small fields, usually six-on-six or eight-on-eight."
The team will play four different games throughout the spring. The game against Southern Methodist University on Saturday, Feb. 23, is the only one that has a set date yet. Other games will be played against the San Antonio Scorpions, Trinity alumni in April, and University of the Incarnate Word with times and dates to come later.