Women's tennis split matches against Tyler Junior College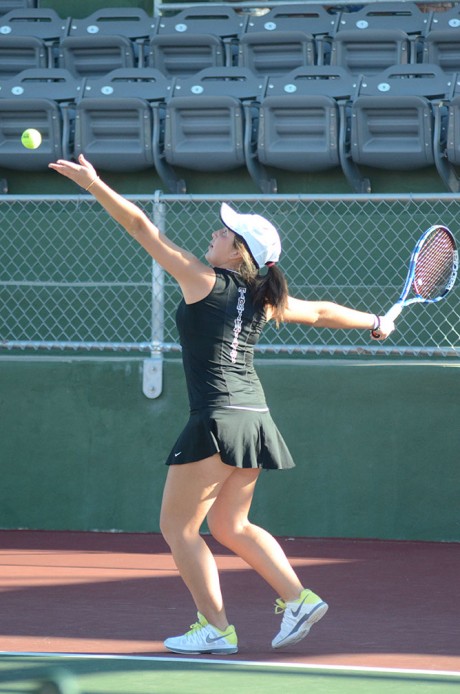 The women's tennis team split their matches last Saturday, falling 6-3 to Tyler Junior College in the morning, but rallying in the afternoon to shut down Laredo Community College 9-0.
"I think the team did very well this past weekend," said first year Caroline White in an email. "We're playing Division II teams right now to get some practice in before our two big trips, and I think we are doing a great job of competing with them and showing them we have a very strong team this year up and down the lineup."
In the first match, the Tigers took an early 2-1 lead after junior Stephanie Williamson and first year Kristy Hamilton won their doubles match in the No. 2 position, followed by a win from senior Thavindra Ekanayake and first year Gabrielle Roe in the third position.
"We really had them scared after doubles and in singles we went out there and competed hard," said head coach Jacob McMindes. "We're playing down a player so people have had to move up and we're switching doubles teams around, but for the most part I'm really pleased with the way our team's been able to plug in players."
Roe recorded the only singles win for the Tigers at the No. 5 position.
"It was a hard fought match and I had a lot of team support without which I definitely couldn't have won," Roe said. "Everyone put up a good fight down the line, but they were just a pretty strong team."
Against Laredo, White and junior Kylie Hornbeck won at the No. 1 position in doubles, followed by a win from Hamilton and Williamson. Since Laredo only had four players, Ekanayake and Roe automatically won the third doubles match.
"We were already starting the match 3-0, but it's not always easiest to have that lead, to know you're going to win and still to finish that job and get it done, but our team did," McMindes said.
Laura Roa won at the No. 1 position for Trinity, followed by wins from junior Lavinia Bendandi, junior Michelle Gun-Munro, and Williamson.
"I think our energy and competitiveness we have as a team is a big part of what contributes to our success in the matches we play," White said. "As a team we're also really good about cheering each other on during the matches, and I think that also is a big part of it because were playing for each other out there and want to win for the team."
Next weekend, the Tigers will travel to Greencastle, Ind., where they will compete in the ITA Indoor National Championships for the first time.
"We're obviously excited to be there, but I want to make sure the girls aren't just happy to be there," McMindes said. "I want them to understand they can go in there and scare a lot of people and make some noise."
Leave a Comment