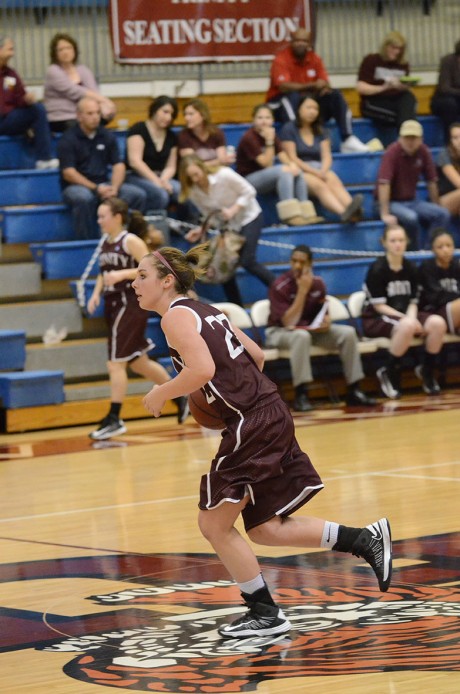 For the first time since 2005, the women's basketball team clinched the SCAC Championship  title last Sunday in Sherman, Texas. With the win, the women recorded their first undefeated season in SCAC play in school history and received an automatic bid to the NCAA Playoffs.
"It went really great," said first-year forward Anecia Richardson. "It went the way we wanted it to and the way we expected it to."
On Saturday afternoon, the women beat the University of Dallas 59-53 in their first game of the SCAC Tournament. In the last few seconds of the game, Trinity went 4-5 from the free throw line to secure the victory.
"I think that playing Dallas first was really good, because Dallas plays us well and to have that challenge on the first day and to overcome that challenge was great," said head coach Cameron Hill.
Junior guard Murphy Burns led the Tigers with 14 points and four rebounds, Richardson had 13 points, and junior forward Libby Kruse contributed with nine rebounds and eight points. Sophomore guard Hannah Coley and first-year guard Caitlin Barrett both had nine points, while Coley also recorded four steals.
"We made the plays we needed to and we found a way to win," Coley said.
The Tigers beat Southwestern University 77-65 on Sunday afternoon to win the championship. This win was Trinity's 17th consecutive win, tying the school record set in 2003-2004.
"We were shooting well and playing defense well," Richardson said. "We went out there with a standard for ourselves, and we met that standard."
Coley dominated with 20 points and four steals, while Burns had 10 rebounds and 19 points, and Kruse had 13 rebounds, nine points and eight assists. For her performance, Kruse was named the Tournament Most Valuable Player.
"The rivalry always creates a certain focus for our girls""there's always an extended desire to perform well against Southwestern," Hill said. "From start to finish, our girls did a fantastic job."
After leading the team to the most wins by a rookie head coach in school history, Hill was named the SCAC Coach of the Year. Burns was named the SCAC Co-Player of the Year, Kruse was named the Co-Defensive Player of the Year and Richardson was the SCAC Newcomer of the Year. Burns was selected for the All-SCAC First Team, while Kruse, Coley and Richardson were given spots on the Second Team. Senior guard Anne Waidelich and Barrett earned spots on the Honorable Mention Team.
The Tigers head next to Portland, Ore., where they will play Lewis & Clark University tonight in the first round of the NCAA Tournament.
"Now it becomes win and advance or lose and go home," Coley said. "Our motto for the postseason is to survive and advance because this becomes competitive and we have to find a way to win. We're going to keep up what we do well and try to figure out how we're going to beat Lewis & Clark."