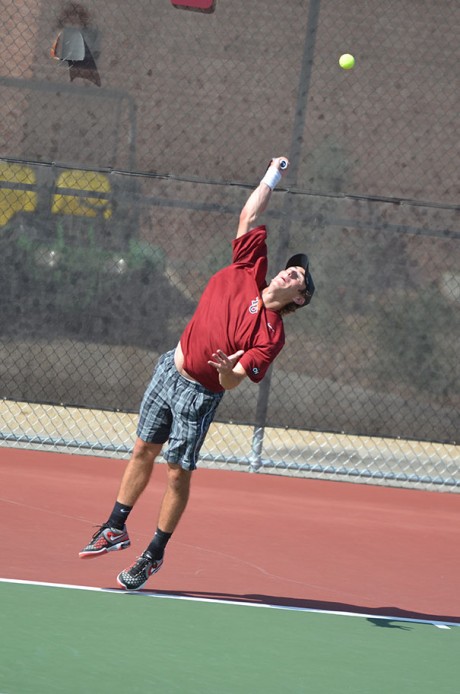 The 7th ranked men's tennis team ended its regular season with a road trip around Texas, finishing the weekend 3-1.
"I think the team did very well," said senior Erick De la Fuente. "We went 3-1 with our only loss coming to a Division I team at SMU who have gotten some big wins lately. Also, we took it to them, almost winning that match as well."
On Friday, the Tigers won their first match 8-1 against the University of Texas-Dallas. In singles, sophomore Aaron Skinner won in the first position, followed by junior Nicolas Moreno, De la Fuente, sophomore Charlie Curtis in the No. 5 spot, and first year Connor Dunn. De la Fuente and sophomore Jordan Mayer clinched the victory in the No. 1 doubles position, followed by Moreno and Skinner, Curtis and Dunn.
"We never know how they're going to perform, but we know they have good talent, so it was a good win," said head coach Russell McMindes
Later that afternoon, the Tigers lost 5-2 at Division I Southern Methodist University. In doubles play, Skinner and Moreno won in the No. 2 position, followed by Curtis and Dunn. However, according to Division I rules, the team with the most doubles wins only receives one point. Dunn clinched the only singles victory for Trinity in the No. 6 position.
"Although we lost to SMU, we had a lot of really good matches," Dunn said. "They're a pretty good Division I college, so that's a good result."
On Sunday, the men beat 11th ranked University of Texas-Tyler and Collin County Community College, ranked 4th nationally among junior colleges.
"Our depth really showed, especially against Tyler and Colin County," De la Fuente said.
Trinity first beat Texas-Tyler 6-3, clinching their seventh consecutive win against a Division III opponent. In singles play, junior Greg Haugen won in the third position, followed by De la Fuente, Mayer and Curtis.
Skinner and Moreno won in the second position in doubles play, followed by Haugen and Dunn in the No. 3 spot.
"Their top two singles players were fantastic," Dunn said. "It was a tough match for everyone."
The Tigers then traveled to Plano, where they beat Collin County 5-2. Haugen won in the No. 2 position in singles play, while Curtis won in the No. 4 spot and Dunn won in the fifth position. In doubles competition, Moreno and Curtis won in the No. 2 spot, while Haugen and Dunn won in the third position.
"We knew they had some talent but not what to expect," McMindes said. "Both teams had had a long weekend, so it was whoever got to five points first and then we'd stop the match."
For his performance, Dunn was named SCAC Men's Tennis Player of the Week. Trinity will host the SCAC Men's and Women's Championships April 27-28.
"We're just ironing out any kinks at this point," De la Fuente said. "We're pretty confident in winning conference, so our focus lies beyond that, but we realize it's important to take care of business beforehand for sure."