Men's golf dominates SCAC Championship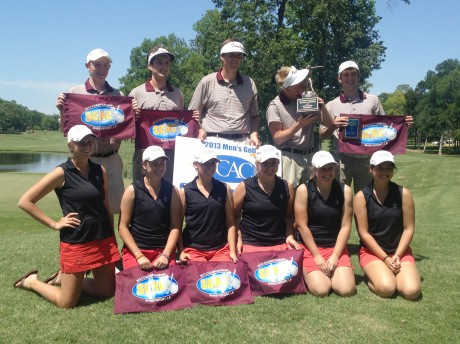 For the first time since 2005, the men's golf team won the SCAC Championship to clinch the fourth overall title for the program.
"Our guys handled the pressure of match play beautifully," said coach Craig McConnell in an email. "They were able to force their opponents to play from behind, and that just allowed them to extend their leads."
On Saturday afternoon, the men beat Centenary College 4-1. This year's conference was conducted as a team match-play event, which meant that each team picked five players to play against another school's five players, and the team who won the most matches advanced.
"We believed going into conference that the match play format we played this year could work to our advantage, and it did," said junior Tyler Lehman in an email. "We played really well, especially the second day, which was crucial for us to beat Southwestern."
Against Centenary, the winners for Trinity were senior Blake Turner, sophomore Kalen Vos, junior Erik Long-Goheen and first year Alex Hartzell. The Tigers beat Southwestern University 3-2 on Sunday to take the championship title. Hartzell, Long-Goheen and Vos earned victories for the Tigers.
"In the final match, Vos wasn't ever in danger of losing," McConnell said. "He has been the best player in our conference all year long, and he played like it. When he closed out his match on hole 16, it secured us the championship."
For his performance this season, Vos was voted the SCAC Men's Golf Player of the Year, becoming the first Trinity player to win this award since 1995. Vos and Lehmann were named to the All-SCAC First Team, while Hartzell was named to the Second Team.
"We were confident that we could get the win this year and everyone stepped up on Sunday to make it happen," Lehman said. "This tournament win was a great way for us to end the season."
Meanwhile, in the women's conference competition, first year Brigette Lee won the individual title by one stroke, while the women's team came in second place. Trinity lost by just four strokes to Southwestern.
"We were a little disappointed as a team that we weren't able to win but overall everyone was really excited," Lee said.
For her performance this season, Lee was named the SCAC Women's Golf Player of the Year and the SCAC Women's Golf Freshman of the Year, becoming only the second player in SCAC history to win both awards in one season. Lee was also named to the All-SCAC First Team.
Sophomore Alessa Hutter and senior Madison Wallender both came in seventh place for the Tigers, followed by junior Molly Zumbro and first year Madeline Moran, who tied for 10th place, all of whom earned Second Team All-SCAC honors.
"Everyone came together and focused on the second day after a rough first day, and we were able to play the course better," Lee said.
Now, both the men's and women's teams must wait for potential bids for the NCAA Playoffs.
Leave a Comment