Trinity tradition: "The Rocky Horror Picture Show"
"The Rocky Horror Picture Show" has been thrilling audiences and continues to acquire an international cult following since its release in 1975.
Despite a robust musical score and a cast starring legends like Tim Curry and Susan Sarandon, the film bombed at the daytime box office. Midnight screenings became popular in the mid-1970s and "Rocky Horror" became an iconic Halloween fixture with the new time slot and the assistance of its growing fan base. "˜Shadow casts' are made up of fans dressed in costume who mimic the actions on screen and lip-sync all the lines and lyrics. Every year Trinity's theatre department takes part in this 40-year-old tradition.
"I was in the show last year as a part of the ensemble and I had so much fun with that," said Erica Schoenberg, sophomore theatre major and co-director of the show. "I think the Trinity tradition of doing "˜Rocky Horror' is really fun."
"Last year I had never seen it before or anything, not even the full movie until part way through rehearsals, but I was glad I got to experience this well-established cultural tradition. I feel like movies and stuff that I watched when I was younger kind of showed "˜Rocky Horror' as almost an adolescent rite of passage, so I think it's awesome that Trinity does it every year and that I've gotten to be part of it two for two so far!" Schoenberg said.
Cast members agree that a single viewing of the production is enough to fall in love with musical-comedy-horror mashup.
"I wanted to be in the show this year as soon as I saw it performed last year! I love that we get to do this wacky show "" it's just so campy and you can make the characters act however you want," said Anna Wallack, sophomore psychology major and this year's Riff Raff shadow.
The plot of the show centers around a young, innocent couple driving home on a rainy night. After their car breaks down, they find themselves in a castle full of increasingly strange and bizarre characters, like Riff Raff.
"When I'm playing Riff Raff, I make my eyes bug out, turn myself into a hunchback, and splay my hands out like a salamander. I do a lot of hissing noises and kind of sound like an exaggerated Snape," Wallack said.
But getting into character is harder for some than others.
"My most challenging aspect is probably getting into shape. I'm not a hunk so I'm going to be working on that," said Kody Nace, junior theatre major and the cast member shadowing Rocky this year.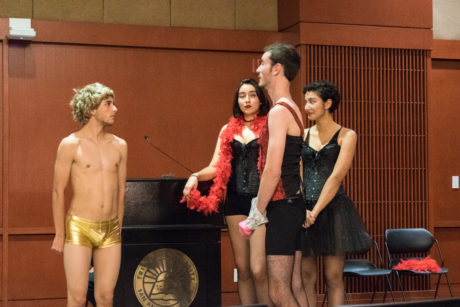 Nace is three for three when it comes to taking part in Rocky Horror.
"I first got involved my freshman year and I have loved doing it every year since then," Nace says.
"The Rocky Horror Picture Show" has debuted everywhere from Broadway stages to silver screens around the world. In 2016, the film was controversially remade for TV with celebrities like Laverne Cox and Adam Lambert stepping into the well-beloved roles of Frank-n-Furter and Eddie. On Oct. 25""26, the Fiesta Room will be filled with costumes, games and showings of the iconic film. Co-director Erica Schoenberg assures there is something for everyone.
"If people haven't seen it before, I hope they enjoy it, buy into the camp of the show, you know. If they have seen it, I hope it's as fun as ever "" the purpose of the show is really just to have a fun and sexy and chaotic time and buy into the ridiculousness of the movie and story for a few hours," Schoenberg said. "And, I hope that a few people at least see it and think, "˜Wow that looks fun I wish I had auditioned' and be part of it next year!"
Leave a Comment