Last-minute costumes
As Halloween approaches, many Trinity students are finding themselves without a spooky costume. We procrastinators have put off finding a costume for so long that now we find ourselves scrambling to throw something together at the last minute, and in my case I already know it won't come together as well as I want it to. Even worse, many people will panic and lose their inspiration when they realize that Halloween is upon them and they no longer have time to put off finding a costume.
To help solve this problem, here are a few easy ideas for last-minute Halloween costumes that are quick and simple to put together and will hopefully be more satisfactory than the classic sheet ghost.
This striking character is a timeless classic and her unsettling aura is perfectly suited to the Halloween vibe. All that ladies need to do is find a plain black dress and braid their hair in two pigtail braids. Add some black shoes and you're good to go. If you're feeling committed to the original character, add a white collared shirt that shows above the dress and some black hose to complete the look.
The fastest idea on this list to put together is also one of the simplest. All you have to do is write "Error 404: Costume not found" on a piece of paper and tape it to whatever shirt you want to wear. Even though this might particularly appeal to those with an interest in computer science, anyone at all can quickly and easily make this ironic costume. If nothing else, it'll provide you with a good laugh all night, especially when your friends who went all-out with their costumes roll their eyes at you.
For those who still want to go all-out on a costume in very little time, this is an option for you. Find the brightest, loudest tropical print shirt you can and pair it with a pair of khaki cargo shorts. Add a pair of high socks and some sneakers, strap on your fanny pack and slide on some sunglasses on your way out the door. If you can find a fisherman's hat, I highly encourage you to wear it all night. With or without the hat, you can always use sunscreen to give yourself stripes under your eyes.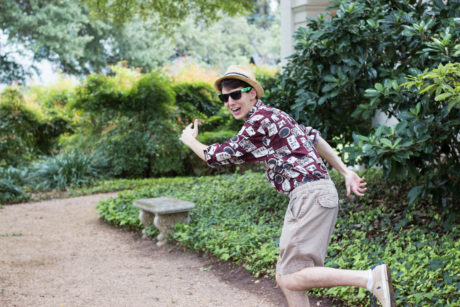 I know this is another female costume, but I think it's another timeless classic that's too good to pass up. All that's needed for this outfit is a dark blue button-up shirt and a pair of jeans. To complete the image, tie a red bandana around your head and some bright red lipstick.
Hopefully, one of these ideas will provide some inspiration for you to go out in full costume this Halloween weekend. If not, keep an eye out for these and more last-minute costumes and know that the person wearing it may very well have put it together in 10 minutes before heading out to enjoy their spooky weekend.
If you throw together a last-minute costume this Halloween tag us in a photo on either Instagram or Twitter @Trinitonian for a chance to win a prize.
Leave a Comment