Halloween is approaching once again, and with it comes the spooky, terrifying dilemma: Should you buy a costume or make your own? For creative types, especially those who own a wide variety of strange clothing already, making your own costume is probably a great, fun idea. However, for everyone else, buying a costume works just fine.
Now, it's almost certainly true that a self-made costume will look better and have the added sheen of originality, as compared to a store-bought costume. However, a self-made costume requires several crucial components that most students don't have.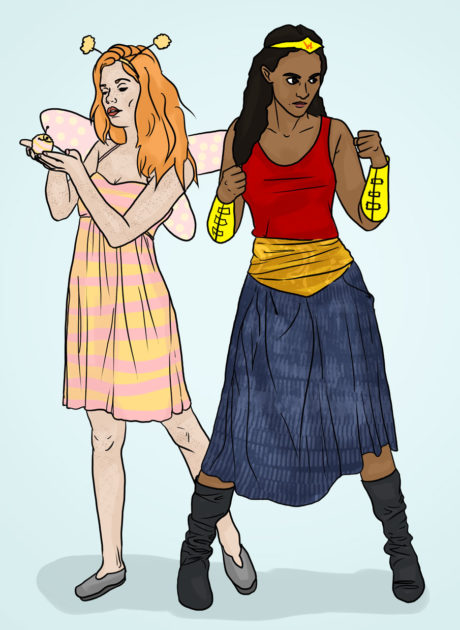 First: time. It's a not insubstantial effort to acquire and assemble various pieces of fabric or other more exotic materials into a functional costume. Fiddling around with scissors, thread, and glue can take hours and, in the middle of the semester, that can be a luxury. Halloween's faux-spookiness is supposed to be fun, it makes no sense to make it actually terrifying by limiting the amount of time available to study for midterms.
Second: skills shortage. It's fair to say that most students probably haven't done much arts and crafts in recent years and most certainly don't know how to sew. Given these deficiencies, attempting to make your own costume might become a time-consuming endeavor that won't even work. The possibility of sinking hours into a costume that immediately starts falling apart due to a poorly sewn seam or the fragility of Elmer's glue is a pretty worrying one.
Third: expense. Making one's own costume can still cost money. Most students who'd want to make their own costume probably don't already have everything they need in their wardrobe. To get those materials, then, it'll still be necessary to drive to arts stores or Goodwills and spend money on the components of a costume.
Clearly, for most students, making your own costume is too time consuming, excessively difficult and still costs money. Luckily, the alternative of buying a costume is easy.
I've actually been using the same store-bought costume every Halloween since my first year at Trinity. It's a fleece Batman onesie that I picked up for $20 at Target. It zips up in the front and is easy to get in and out of, has deep pockets and, best of all, it comes with a Velcro-attached cape.
As for popular reception, people love the Batman onesie, particularly the cape. Also, it's never any worse of a costume than anyone else's. Indeed, the Target onesies were such a hit my first year that at least seven or eight people I knew also purchased them in Superman and Teenage Mutant Ninja Turtle variants. The further benefit of buying that kind of Halloween costume is that it has good practical uses. A full-body zip-up fleece onesie is great fashion for winter days when you're in a rush to get to class or as regular pajamas in a room where the air conditioner is too cold.
Other store-bought costumes can have secondary uses too. Once, for a theme party I picked up a $5 pirate set from Walmart that consisted of an eyepatch, plastic sword and fake hoop earring. The plastic sword now hangs on my wall like something out of "Arabian Nights."
Most self-made Halloween costumes probably won't have these sorts of secondary uses and can probably only be worn once a year, assuming they don't fall apart. So, if you've got the creative instinct and the time to spare, by all means make your own costume for Halloween. If you don't, a store-bought costume will work just as well, and maybe better.