Fifteen years ago, Rohan Walawalkar sat in a car with his mom eating a candy bar — his ideal day. Stuck in traffic, Walawalkar savored every bite of his Cadbury treat, unconcerned with the local homeless woman his mother was talking to. The next thing Walawalkar knew, his perfect day came crashing down. The homeless woman had stolen his beloved Cadbury bar. At the time, Walawalkar was angry and loathed the homeless woman for stealing his treat.
However, after some soulsearching and research on homelessness, Walawalkar gave a TED talk regarding this day. Through this TED talk, the sophomore anthropology major demonstrated his change in view of homelessness, just as he hopes to change the stigma in society about homelessness.
"Society's view is that [homeless] people are despicable, are lazy, are poor, and don't care. In my research, I've found they're so much more. People experiencing homelessness are people who, in inhuman conditions, have to make inhuman decisions. And sometimes they have to steal candy from a child," Walawalkar said in his TED talk.
Walawalkar believes that the way to change the accepted view of homelessness in society is through narrative.
Because of this, Walawalkar started TEDxTU, a club he hopes will influence what people think and believe. This semester, Walawalkar kicked off his club with a lecture series on studying.
Walawalkar hopes that TEDxTU can not only help students with their study habits but also provide a platform for students to share their ideas and opinions. Walawalkar's own passion to fight homelessness led him to found TEDxTU. He hopes that by using this platform, he can change the stigma against homelessness and develop his narrative skills.
"They're something that everyone has seen, but not many people think about them. TED itself is a global nonprofit that provides this platform for development, provides this platform for people to come together and share ideas that are likely to change the world," Walawalkar said.
On Jan. 11, Walawalkar and Andrea Cruz, first-year, intended business major and speaker coordinator for TEDxTU, gave the club's first TED talk. This lecture was the first in a four-part Study Hacks Lecture Series based on the blog of Cal Newport, author and professor at Georgetown University. Walawalkar spoke to about 30 students on how to improve their study habits and the importance of time management. His lecture included interactive questions, tips on how to lead a balanced academic life and memes to keep his audience engaged.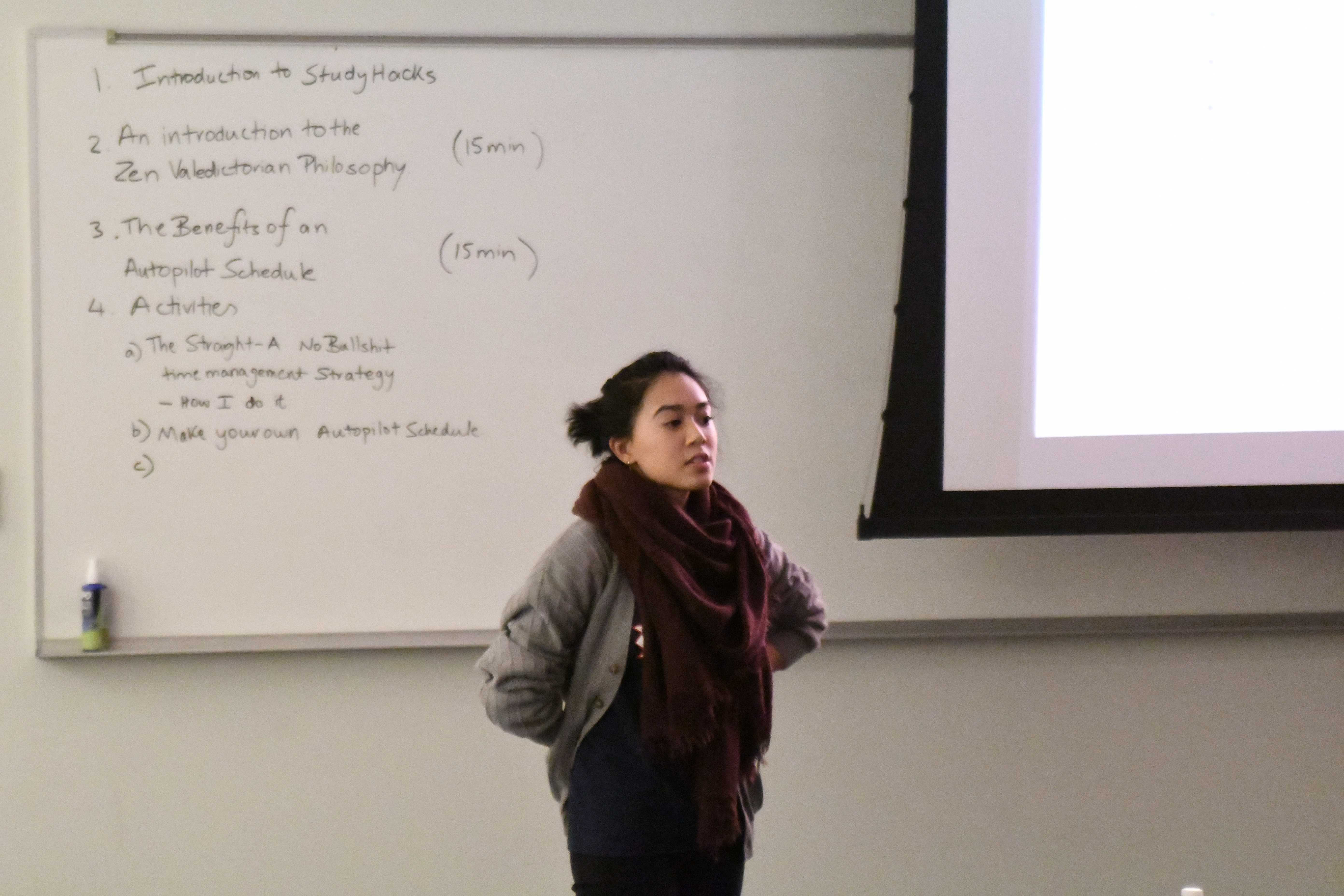 Cruz's portion of the lecture focused on the specific ways students could integrate time management tips into their routine. At the end of the lecture, Cruz used her own schedule as an example on how to time manage for the week ahead.
"A lot of our students are smart. And they were the students in high school who were used to not doing a lot of work and getting those As and getting that 4.0. Especially with a lecture series like this, it'll help students learn how to study and learn how to do it efficiently and make use of their time wisely," Cruz said.
Stacy Davidson, director for academic support, particularly enjoyed the lecture. Davidson believes that TEDxTU's lecture series will be helpful to the student body and hopes to collaborate with TEDxTU in the future. She thinks that peer-to-peer shared academic tips and experiences are especially powerful because students trust the advice given to them by their peers. 
"Having students talk about their experiences is invaluable," Davidson said.
Davidson aims to coordinate lectures with the Student Success Center and TEDxTU to further assist and motivate the student body members in their pursuit of academic success.
Walawalkar hopes to grow the club this semester. In February, the club plans to hold a showing of pre-recorded TED talks to the student body. In August, TEDxTU hopes to have its first live speaker event. Walawalkar intends to invite alumni, faculty and students to lecture.
"I'm going to draw from the global community of ideas and curate a set of talks that can really change opinions starting in my community — change opinions that I think need changing," Walawalkar said.
The next session of the lecture series, focusing on note-taking skills, will take place on Jan. 18 at 6 p.m. in CSI 448.