Experiential Learning revamps Tiger Breaks
Junior Susan Griffith stood in the frozen food aisle feeling hungry and regretting her decision to vote for lasagna.
After spending all day cleaning up a New Orleans park, Griffith sat in the car for ten hours while one of the group members drove. They were on their way to Walmart so they could buy frozen lasagna for dinner. Now, she stood staring at the box of lasagna in her hand. The box read "takes one to two hours to thaw." Griffith and the rest of her group walked out of the aisle, craving the crawfish boil their last Trinity alum made for them. Although they were initially disappointed, by the time Griffith walked out of Walmart with her group they were all laughing about their attempted pasta dinner night.
Griffith reflected on these memories she gained and the friendships she developed through Tiger Breaks.
"I really loved the service aspect, but the social aspect was really fun. I was meeting all new people and creating bonds with those people," Griffith said.
Last year, Griffith and nine other students went on Tiger Breaks, a community service trip to New Orleans with a focus on environmental justice. Since 2007, Trinity has been providing alternative break trips where students participate in forty hours of community service. Recently, Experiential Learning has begun reinventing these trips in order to expand the program.
Scott Brown, the assistant director of Experiential Learning, works with the student leaders on the trips to plan each alternative break.
"We redesigned the model of the alternative spring break program at Trinity, so we've given it more of an identity and a brand. It is now known as Tiger Breaks. Our vision is to potentially offer these programs or these trips not just over spring break but potentially offer a fall option and winter break option. Last year was our first time implementing this kind of model," Brown said.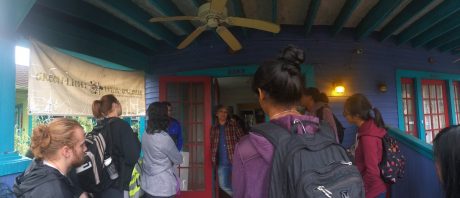 Normally, there is one alternative spring break trip a year. However, last year there was an increased amount of interest in the alternative spring break program, so Brown and Experiential Learning created an additional trip to Oklahoma City focusing on homelessness and poverty.
"Part of it is not just looking at the city but what are the causes that students care about on campus as well. And I know there are students who volunteer with organizations in San Antonio that work with people who are homeless or experiencing poverty, so we are going to use that focus and apply it to our new trip to Oklahoma City," Brown said.
Every night, students gather together for reflections. Through these conversations, students share how they felt about the service project that day and how they could have improved on the project. The discussions facilitate group bonding and allow students to think of ways they can help with these issues after the Tiger Break ends.
Richard Reed, anthropology and sociology professor, believes that Tiger Breaks give students a chance to not only learn about these issues but also consider how they can facilitate change even after their life at Trinity.
"I think that one of the goals of these programs is to give students an introduction to these kinds of works and these kinds of problems to figure out if they want to go deeper for longer periods of times. I think students have the opportunity to prioritize the social issues they want to work with," Reed said.
Students are encouraged to engage with issues like environmental justice and homelessness and poverty on campus. One way students can do this is through HOPE hall. Members volunteer weekly at centers that focus on helping the homeless.
Tahlar Rowe, senior political science major, is the community partner coordinator for HOPE hall. She believes Tiger Breaks are an effective way to get the student body engaged with the issues of homelessness and poverty.
"I think it's really cool, especially for people at our school. To be able to put them in an environment where they'll be exposed to that, I think that'll be life-changing for a lot of people who do go on that trip. To be taken out of your comfort zone — to be physically put in that space and live there I think is an experience that even I can't say I've had," Rowe said.
This year, Tiger Breaks will take place from March 10-17 and cost $150, which includes transportation, lodging and most meals.
Leave a Comment