Culinary expert Brent Gorman improves Mabee dining
Brent Gorman, executive chef for Trinity dining, used the skills he got from his family to become one of the top chefs in the nation.
Gorman grew up in Greece, where his parents owned a restaurant, his mother ran her own art studio and his uncle owned a bakery. In the summer, Gorman worked for his uncle baking and selling pastries. At the same time, his mother taught him how to sculpt and paint.
One summer, Gorman worked in the kitchen of a cruise ship, watching chefs make ice and butter sculptures day after day. After that summer, Gorman knew he wanted to become a chef, realizing he already had the skills to help him reach his goal.
"I can do that. I do sculpting — different material but the skill set is already there. That's kind of my niche. That's what got me going. I knew I wanted to be a chef," Gorman said.
Gorman eventually moved back to America and began honing his culinary skills. He competed in several ice melon carving competitions, winning medals and trophies as he moved up in difficulty. The sculpting skills his mother taught him translated perfectly to his culinary competitions.
Gorman's ambition to become a great chef eventually lead him to the ProChef program. In 2013, Gorman competed against other chefs for five days at the Culinary Institute of America to become a level three ProChef, the highest level possible.
"In 2013, I got my certification, and I was one of 98 in the whole United States to have it," Gorman said.
Gorman's ultimate culinary goal is to become a Certified Master Chef (CMC). To do this, he must compete for eight days, cooking meals for CMCs who will judge the presentation and authenticity of his meals. For now, Gorman treats Mabee cooking as his training for the CMC competition. One way he is doing this, according to Charles Robles, the general manager of Mabee dining, is by making Mabee a premiere kitchen.
"It means that we're able to expand the menu development that we do. We're able to source reasonably purchased ingredients and items from around the region and around the area, with a focus more on heart healthy foods as well as on being able to provide meals that, typically, you wouldn't find at other universities," Robles said.
The changes Gorman has made since he started working at Trinity last summer are felt across the campus. Darlene Rodriguez, catering coordinator, has noticed a difference in the food and client satisfaction.
"Since he's been here, the changes have been phenomenal. He has updated the food for the students and for catering. Our clients can't get enough of him. He's very knowledgeable. He's an expert at what he does," Rodriguez said.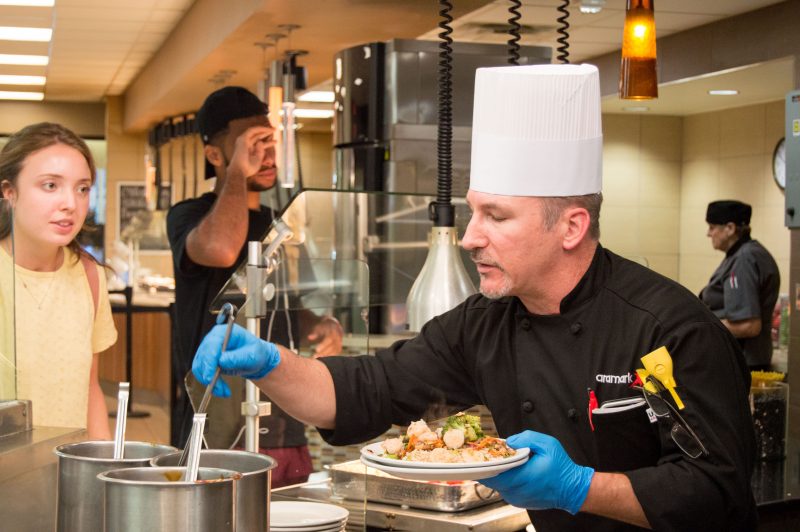 Gorman has also been influencing the clubs on campus by offering to cook specialty dishes. Last semester, Gorman worked with the Muslim Student Association to celebrate Eid-al-Fitr. After being approached by the group, he made specialty dishes in Mabee for a day that included mangolas, butter chicken and several vegetarian options. 
Hamza Adisa, senior and past president of the Muslim Student Association, worked with Gorman to plan the event and was pleased with his willingness to help.
"He's actually done celebrations like this for other campuses and for other schools," Adisa said. "He was like, 'We're just going to make it an Aramark thing, this is going to be part of our schedule.' We also discussed the kinds of dishes we could do. There's a wide variety of food that you could offer so we discussed the different varieties of food that we could offer that would accurately represent the current demographic of Muslims we have on campus."
Gorman is continuing to look for ways to better Mabee dining, work with students and hone his culinary skills.
"It's only going to get better," Gorman said.
View Comments (1)