Very few people enter college thinking they're going to be a pirate. Luckily, Trinity University, as a true liberal arts institution, provides its students with that possibility.
Pirates at Trinity are not sailors of the high seas, however. Instead, they are the Swashbucklers, the only substance-free living community on campus available for upperclassmen.

Swashbucklers was started in 2005 by Philip Gates and Elena Serna, who are now known as 'grand admirals' — they were the original 'captains,' the Swashbucklers' student leaders.
The current captains, Sam Ivy, Sarah McIntyre and David Menchaca, who will be stepping down after spring break, will be known as admirals after they retire. (Menchaca is an A&E reporter for the Trinitonian.)

The organization's pirate theme was inspired by the "Pirates of the Caribbean" movies, which were popular at the time of its founding: The series began with 2003's "The Curse of the Black Pearl," which was followed by the release of "Dead Man's Chest" in 2006.
According to senior captain Sarah McIntyre, the grand admirals drew inspiration from a line spoken by protagonist Captain Jack Sparrow in the earlier film: "Why's the rum gone?"
"I think it's a cute little joke, and the fact that it stuck is good," McIntyre said.
Obviously, the pirate theme does not extend to pirate-like behavior. Drinking, smoking and drug use are all strictly prohibited for all the hall's residents, regardless of age.
Students are allowed to go out and drink if they wish, but there is the expectation of quiet and respectful behavior when they return. Blue Mohr, a junior and incoming captain, said this was an important aspect for their decision to live on the Swashbuckler hall.
"I don't really want to deal with late-night yelling in the hallways," Mohr said.
The captains have a one-strike policy — after one warning, students will be kicked out of the hall for another infraction — but McIntyre noted that she and her co-captains haven't needed to address any issues at all this school year.
"I'm sure [people breaking the rules has] happened in our history, but this past year no one has. It's been pretty good this year," McIntyre said.
McIntyre admits that people tend to get the wrong impression about Swashbucklers because of their rules.
"There's probably a misconception that Swashbucklers is just like the people who are uptight and don't want to party, but we still do a lot of fun activities and I think it's just an alternative to drinking culture on campus," McIntyre said.
If you ask some of the Swashbucklers why they joined the community, most of them will say it's primarily because of the people, though many do say that the lack of substances was an added bonus.
"To me, [the substance-free aspect] was a nice perk, but I really enjoyed the people and the community that I had heard so much about," said Erin Ford, another incoming captain for the 2018–2019 academic year.
Mohr also loves the atmosphere of camaraderie that is fostered by living on the Swashbuckler hall.
"I like being able to come out of my room at like 10 and there's people in the lounge, and I can just sit on the couch and immediately be able to talk to somebody, which is great," Mohr said.
Among the Swashbucklers' signature characteristics, besides the pirate theme, are the various fun traditions they have. The Haunted Hall that they put on every year around Halloween is the most well-known of these traditions, and it's also almost everyone's favorite.
"It's a lot of fun for the community to come together to do as a whole. Like, we start planning it before the end of the year. It's really intense, and it's a lot of fun, and we really pour a lot ourselves into it," Mohr said.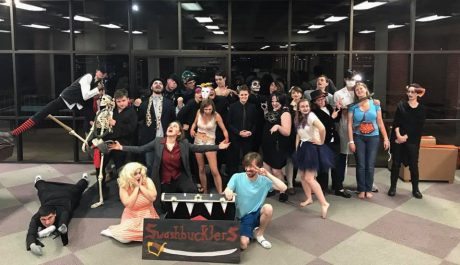 Other Swashbuckler traditions include turning the birthday fountain dunking into a kind of trial and punishment scenario, and of course taking full advantage of Krispy Kreme's Talk Like a Pirate Day, where customers can get free doughnuts for talking like and dressing up as pirates, something the Swashbucklers do very well.
Overall, the Swashbucklers are a community full of people who prefer the kind of fun found in playing Dungeons and Dragons or having a "Star Trek" marathon over getting drunk or high. Though they don't quite have Captain Jack Sparrow's affinity for rum, they love to spend time with each other as a crew, and what pirate wouldn't approve of that?
Interested in Swashbucklers? Want to join the community and live on the hall? Contact incoming captains Blue Mohr at [email protected], Erin Ford at [email protected], or Eric Logan at [email protected].