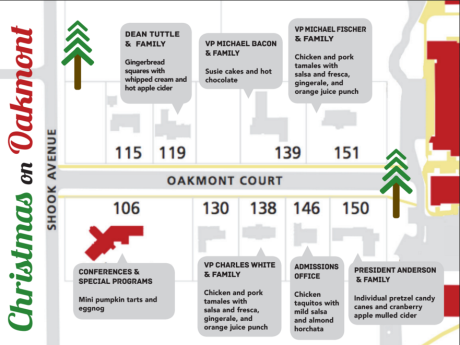 On Sunday Dec. 6, Trinity will continue its annual Christmas on Oakmont tradition. This festive event, includes free food and caroling and will take place after the annual Christmas Vespers worship service. Both of these events are preceded by Trinity University's annual Christmas Concert on Friday, Dec. 4.
Students will be able to visit houses on Oakmont Court, as well as the Holt Center. Faculty members such as President Anderson and Dean Tuttle will open their houses to the community to share the holiday spirit. Michael Bacon, the vice president for alumni relations and development, and his family will be joining the tradition for the first time. The event is open to Trinity students and their guests, as well as families dwelling in the San Antonio area.
During the event, music ensembles such as the Chamber Singers and the university's a cappella groups travel around to each home to sing for the guests of the evening. The Chamber Singers in particular break into small groups and travel door-to-door to sing holiday favorites. Kassie Kelly, a member of Trinity's Chamber Singers, states that it is her "most favorite Trinity tradition." She enjoys the festive community affair, and participated in the caroling last year.
"It's very welcoming to be able to see presidents and administration members participate," Kelly said.
Kelly is also involved in Overheard, Trinity's co-ed a cappella group that specializes in jazz and hinted towards a possible appearance by the group.
Attendees are free to come and go as they please and can travel to each house to enjoy different foods and decorations. Reverend Stephen Nickle, the university chaplain, has enjoyed the tradition with his own children and states that the custom was around before he began serving at Trinity in 2000. Reverend Nickle enjoys running into students he knows and being able to wind down after the more traditional Vespers service. He calls the Oakmont custom a "transitional moment in the life of the University" as the students and professors prepare for finals and the following winter break.
There is a wide sense of hospitality during Christmas on Oakmont, and several of Trinity's student groups participate as well. The Saturday before the festivities ensue, groups such as the Trinity University Student Ambassadors participate in decorating the neighborhood. They also help the faculty members serve food and keep order as participants move throughout the Oakmont houses.
Many guest dress up in festive wear for the caroling "" which means ugly Christmas sweaters and Santa hats galore. Christmas on Oakmont is a moment for everyone to be able to relax before finals begin the following week. Vepsers will take place at 6 p.m. at Parker Chapel, and Christmas on Oakmont will immediately follow on Oakmont Court.