Get ready to (thrift) shop until you drop
Shopping can be such a wonderful experience. For many people, like myself, it can be a time to focus only on yourself and treat yourself to things that make you happy. There's nothing quite like finding the perfect little black dress or a killer pair of heels. However, there can be a huge downside to buying new clothes. Not only can it be a burden on your wallet, it is a massive burden to our environment.
The textile manufacturing industry has a colossal carbon footprint. According to AlterNet writer Glynis Sweeny: "Globalization means that your shirt likely traveled halfway around the world in a container ship fueled by the dirtiest of fossil fuels. A current trend in fashion retail is creating an extreme demand for quick and cheap clothes and it is a huge problem. Your clothes continue to impact the environment after purchase; washing and final disposal when you're finished with your shirt may cause more harm to the planet than you realize."
This is where thrift shopping comes in. Thrift shops resell clothing items and shoes for a discounted price. This means not only are you getting super cute clothes for sometimes less than half of their original price, you're also helping to reduce your carbon footprint.
San Antonio is home to some really great thrift shops and secondhand clothing stores. From Boysville to Goodwill, there is a store for everyone. However, are all thrift stores created equally? To answer this question I visited three thrift stores frequented by Trinity students: Boysville, Buffalo Outlet and Goodwill. At each store I attempted to put together and purchase a complete outfit.
Boysville:
Boysville is a Trinity classic. Its close proximity to campus and super low prices make it extremely appealing to students. The clothing they offer definitely skews towards an older aesthetic. It was a little difficult finding pieces that I wasn't going to have to alter to fit my style. I started by looking in the dress section, but I soon realized most of the dresses were formal dresses. I moved on to the tops section and found a really cute black and white striped top for $2.99. I paired it with a dark red mini skirt for $4.99. I tried finding shoes to go with the outfit but there wasn't anything that stood out to me in my size. Luckily, I have a pair of boots that would go perfectly with this outfit.
Outfit total: $8.64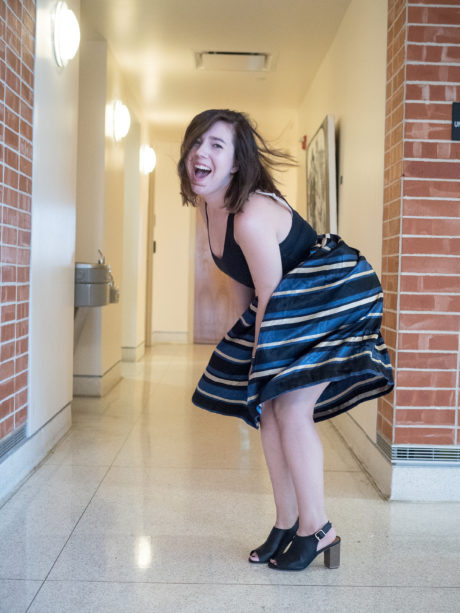 Buffalo Outlet:
Buffalo Outlet definitely has a younger feel compared to Boysville. The first thing I noticed was that it was a lot less organized than Boysville. It was a little difficult to figure out where to start, but I eventually found some great pieces. I started with a (possibly faux) suede tank top for $4.50. I then went to the bottoms area and found a satin patterned skirt for $4.00. This was definitely the most formal of the outfits, which was interesting given the youthful feel of most of the clothes in the store. Something that was really nice about this store was that they offer different discounts throughout the week, so my skirt ended up only being $2.00. Once again, I couldn't find any shoes that I was ready and willing to spend my own money on.
Outfit total: $7.18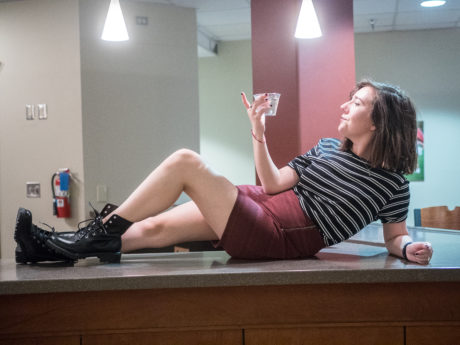 Goodwill:
This was honestly the most disappointing of the stores. Maybe it was just the day that I went or maybe I was just tired of shopping at that point, but I felt like there was not a ton of selection in my size. I found a really cool band shirt for $1.75 and a flannel shirt for $4.50, but I couldn't find any bottoms or shoes that I was really excited about.
Outfit total $6.25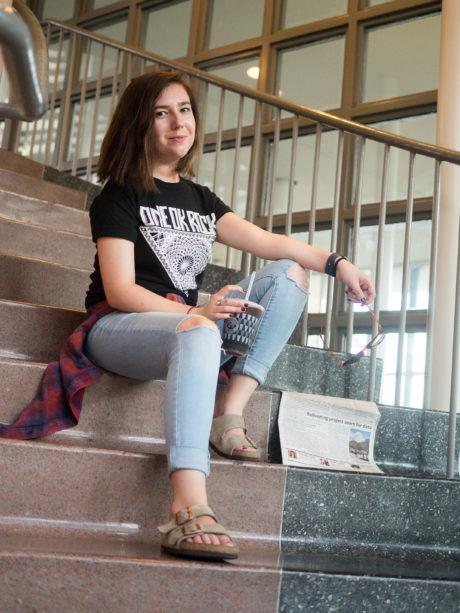 Overall, it was a fun experiment to go into thrift stores to put together full outfits. I highly recommend going out and trying out these thrift shops for yourself because you never know what you may find "" although you may have a little trouble finding shoes.
Leave a Comment