Have you ever driven halfway across town for a subpar, overpriced, yet maddeningly appealing food item that Instagram seduced you into buying? It's an experience that most of us have probably fallen victim to at one point in our digital-age lives. We, your critics of foodie culture du jour, are here to assess the pros and cons of 'gramming cuisine by reviewing some of the most popular San Antonio insta-locations.
Fahrenheit 32
Hype: An ice cream dish, originating from Thailand, which is frozen flat, shaped into rolls, and covered with sauce and toppings
Price: $5.99. Steep for what's essentially a small bowl of ice cream.
Taste: A diverse selection, but none were standout flavors, especially considering how hard it was to eat the over-frozen, densely sweet rolls of ice cream. Evan got the signature combination entitled "Mint 4 Each Other," which was essentially a lot of chocolate and cloying artificial mint flavoring. Georgie got the taro ice cream with blueberries and condensed milk. Both were pretty difficult to finish since the consistency amounted to frozen condensed milk. Two out of five double taps from both.
Vibez: Walking into Fahrenheit 32 on a Friday night could be likened to walking into a post-high school football game ice cream social. Hordes of 14-year-olds lined the observation glass between the store and the chefs preparing the rolled ice cream, phones posed for the perfect social media video. Like cows up for slaughter, we were crammed into community seating while we waited for our ice cream to appear from the chaos of the insta-posturing in front of us.
Grammability: The sole decoration on the millennial minimalistic walls was a tiny mural that was obscured by one of the many groups of young people, making a good picture virtually impossible. The real star of the show, of course, was watching the process of making the dish, which while satisfying, would ultimately be too redundant to release into the all-consuming rolled ice cream void of social media. If you haven't seen those videos, where the fuck have you been?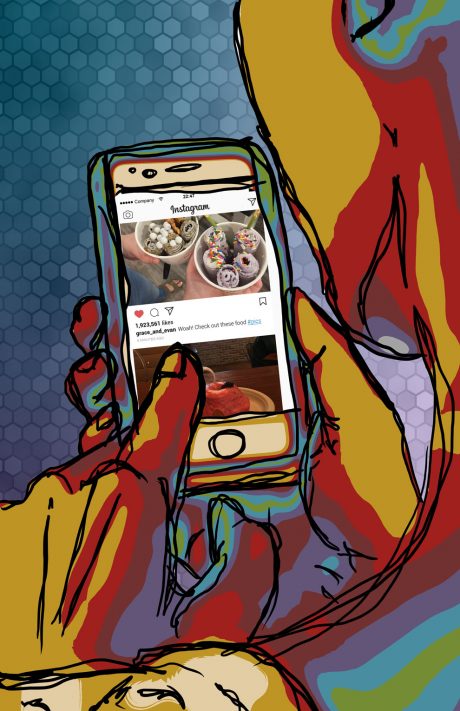 Kuma
Hype: Hong-Kong style egg 'bubble' waffles filled with ice cream and covered with a colorful assortment of sauces and toppings.
Price: $7.50. Pretty steep, but includes a myriad of topping options. Once we got our waffle concoctions, we realized the amount of food was way too much for one person. If you can make a compromise, definitely split this with your friends.
Taste: A diverse selection of quality ice cream flavors and toppings. Evan got peach ice cream topped with fresh strawberries, toasted marshmallows, and condensed milk. Four out of five double taps from Evan. Georgie got matcha (green tea) ice cream topped with mochi, mixed berry Pejoy, and ube sauce. Four and a half out of five double taps from Georgie.
Vibez: We actually had to come here twice because the first time was on a Friday night, and the line circled around the entire strip mall. We returned early on a Saturday afternoon, and there was only a handful people inside so the wait was a reasonable five minutes. The location, a 20-minute drive from campus, is about the size of Einstein's with a quarter of the seating options.
Grammability: All of the pictures we observed on instagram were positioned in front of the sky blue wall in the corner by the entry door for Kuma. If you are willing to fight a group of high schoolers as ice cream melts down your palms, then the picture may be worth it for the grammy.
Art of Donut
Hype: Really big donuts. Nutella. Dry cereal. That's literally it.
Price: $2-$4. Quite a lot for what, again, is just a donut.
Taste: Depends on your expectations for artistry in donuts. Evan got the "Chipmunk" which was slathered with nutella and coated in jagged pieces of Ferrero Rocher. While this may be her description of a perfect boyfriend, the cinnamon in the dough and the weight of the chocolate and hazelnut was cumbersome at best. Two out of five double taps from Evan. Georgie got the Blackberry and Lime, which, to use Evan's signature word, was a bit too "cloying." However, like Topo Chico, the twist of citrus was a welcome respite from the sugar. Four out of five double taps from Georgie.
Vibez: The neon sign on the wall says "Donut Kill My Vibe," and while we want to respect that, we, as the voice of democracy on this campus, have a journalistic duty to the truth. According to Evan, it was lackluster at best, cloying at worst. But Georgie just missed the vibez of Fairview, the coffee shop that preceded Art of Donut in the same location. Honestly you would have a better experience at Dunkin'.
Grammability: At the end of the day, it's just a donut under mason jar light fixtures. If you have to do it, do it for the growling tummy, not for the Grammy.
Look, if you want normal stuff posing as fancy stuff by being covered with more stuff than usual, go no further than your Instagram discover page. We found, maybe unsurprisingly, that these trendy pop-ups cater to visual appeal, but not always to quality olfactorial experience.