Two students. 200+ pairs of shoes. Together, sophomore Christian Lee and senior Pyar Seth consider themselves as more than just people with a lot of shoes.
"It's definitely a collection," Lee said. "I have pairs that I will never wear, that I've never put on, and I'm not going to. I just have them because I like them."
Though Seth intends to wear every pair of shoes he owns, he also has a couple that he's more cautious with.
"I do wear them all. I have worn them all, but there are some that I'm particularly careful about," Seth said. "So if it's raining, you know, you won't see me wearing my 11s."
Both students have larger-than-average feet — Seth wears a size 13, and Lee a size 16 — so sole-searching can be hard. However, their love of shoes pushed them to continue collecting.
According to his count, Lee currently has 24 pairs of sneakers with him at Trinity. However, he says he owns 130 pairs altogether. The ones he keeps at home include the older pairs that he wears less often.
"A decent amount of the ones I have with me are just the ones I wear the most, and then there's a couple of workout shoes and stuff like that," Lee said. "But usually it's just whichever ones I wear the most."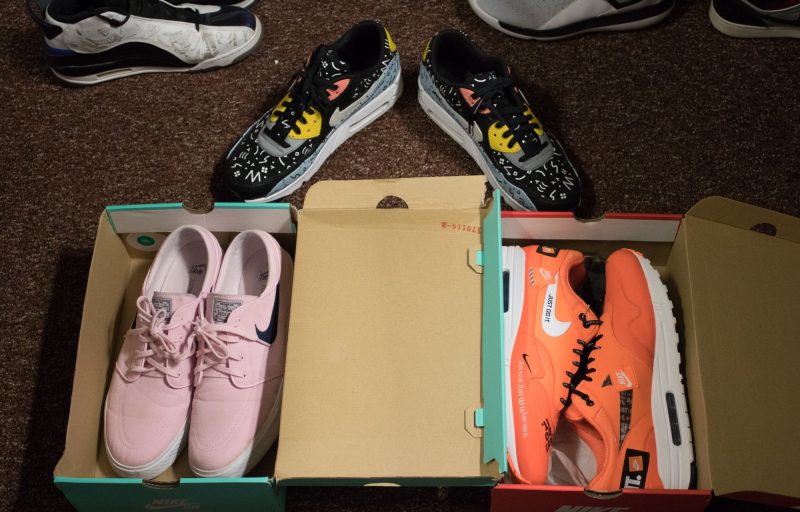 Seth's mother helped him decided which pairs to bring to campus. In total, he has roughly 70 pairs of sneakers, but Seth only brought 43 with him to Trinity.
"I think a big thing for me as far as picking shoes or when I go shoe shopping is versatility, if I can wear it with multiple outfits," Seth said.
As for how they make sure their shoes get equal attention, both "sneakerheads" — as Seth calls himself — attempt to wear a new pair every day.
"I never wear the same pair twice," Lee said. "That's the big thing."
Seth agreed, but took that idea one step further.
"My goal is to wear a different pair of sneakers every day of the month," Seth said. "There are thirty days in a month. Can I do it without doubling up?"
Though his shoes get a lot of usage, Seth sets aside a day a week to clean his sneakers, something he sees as quite therapeutic. As for how successful Seth has been in that endeavor, he said he's had people notice his daily switch-up.
"There was actually a student who I had never had a conversation with, but whose schedule lined up with mine, and I always saw them as we casually walked through campus," Seth said. "And she came up to me and said, 'I don't know you, but I wanted to say that I've never seen you wear the same shoes twice,' and I just kind of laughed."
Lee said that, though his shoe collection takes up a large portion of his closet, his roommate and friends don't seem to notice or care.
"I don't think my roommate really cares," Lee said. "I think he thinks it's kind of weird, but he knows that it's kind of a common thing now."
Junior Ryann Williams, a friend of Seth's, is a fan of his collection.
"I think it's pretty fantastic. It's kind of an addiction at this point, but I don't think it's crazy," Williams said. "Well, I do think it's crazy, but when I see his shoes, I get it."
According to Seth, his collection is a large part of his stylistic identity. Williams agreed with this.
"It absolutely encompasses the particular way he likes to present himself, and his shoes go a long way in that presentation," Williams said.
Seth explained that the start of his craze with shoes was in high school.
"I think it was more of a cultural thing at my high school, and I think growing up in that sort of environment sort of carried on, and I just sort of adopted it," Seth said. "I went to a predominantly black high school, and I would say the Jordan sneaker is a representation of black identity."
The shoe that first got Lee hooked on collecting was a pair of Nike Hyperdunks that he got in 2010. Like Seth, Lee's connection with his sneakers is far from superficial, and he noted that many of his shoes are connected to specific memories.
"I remember with my shoes. I have special moments with them, so like the first time I ever dunked, I still have those shoes, stuff like that," Lee said.
Lee also still owns the pair of shoes he wore to his high school graduation and intends to wear them when he graduates from Trinity as well.
Since sneaker-collecting can get rather expensive, both Lee and Seth look for deals when buying shoes. Seth often uses sneaker exchange websites to find what he's looking for.
"There are a few different websites. I personally use GOAT. Sneaker exchange websites are good if you're looking for unique sneakers," Seth said. "I think a big thing with sneakerheads is sort of the diversity of your collection, so if you're looking for funky, hip, new stuff or stuff that's different, you could go on some sneaker exchange website."
Lee has a different method.
"I have a shoe guy. I'm not allowed to say what his name is, but he gives me good deals on shoes, so I talk to him sometimes," Lee said.
Ultimately, Lee and Seth agree that anyone interested in starting a sneaker collection should be true to their style.
"Wear stuff that you like, not what other people think is cool," Lee said.