Photo provided by Danyal Tahseen
When spring break comes around every year, Trinity students have many different plans, whether it is heading home, traveling or even staying on campus. However, a small number of students apply and are selected to partake in what is known as Tiger Breaks.
Scott Brown, assistant director of Service-Learning and Undergraduate Research and Experiential Learning, has served as the coordinator for Tiger Breaks since his arrival at Trinity.
According to Brown, alternative spring break programs happened as early as 1992 but have not always been consistent. Though the Tiger Breaks program has been taking place since 2007, this is the third year of the current design.
"[In 2016], we looked at this program as an opportunity to redesign it, make it student-led, incorporate alumni engagement and provide domestic trips which would help keep the costs down, thus making it more accessible for students to participate," Brown said.
The trip to New Orleans was the first trip launched in Spring 2016, with Oklahoma City being added the following year and El Paso as a new addition this semester.
As Brown indicated prior to Spring Break, each location provides the students involved with the opportunity to serve a variety of causes.
"We're going back to New Orleans, focusing on environmental justice, back to Oklahoma City, focusing on homelessness and poverty and now El Paso focusing on immigration. And regardless of the location, all trips function the same: each trip has two 'co-site-leaders' [students who lead the trip] and 8–10 participate, who will all engage in 40 hours of direct community service related to the respective social issues."
Driving to the locations and having churches accommodate students in terms of housing keeps the trips cost-effective. The program also reaches out to Trinity alumni living in these cities to either volunteer alongside or open up their homes and sponsor meals for the student volunteers.
"Normally, we've charged $150 for the trip fee, which covers transportation, lodging and most meals. This year, because of Trinity's 150th anniversary, with the help of the President's office and [setting money aside in our alternative spring break budget], all of the students will be covered," Brown said.
New Orleans — Environmental Justice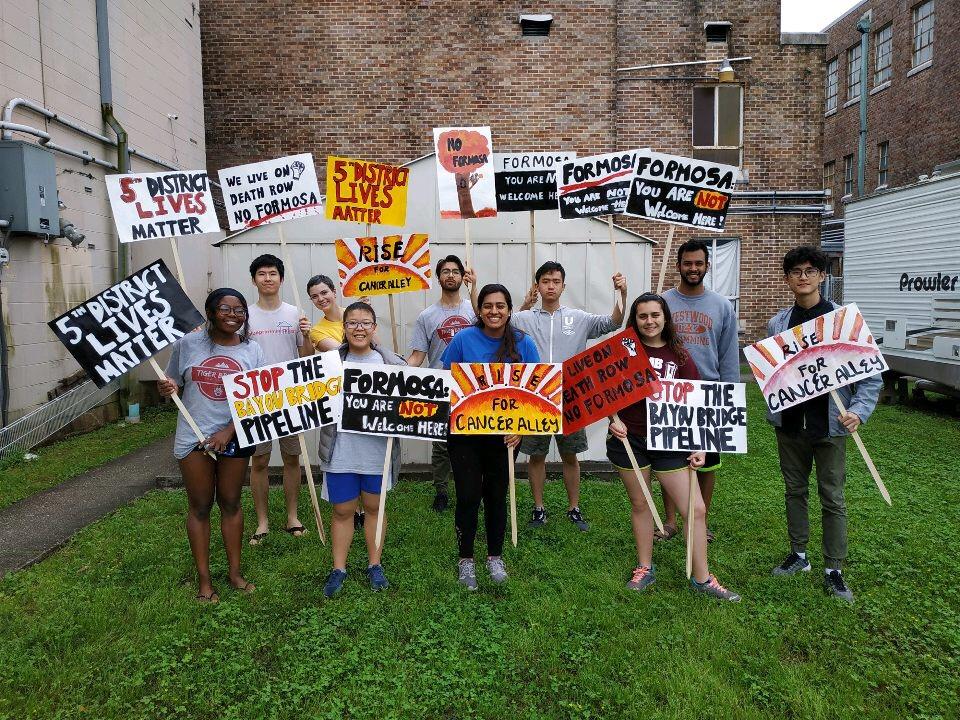 Students on the New Orleans Tiger Breaks trip pose with signs they made to protest the building of a petrochemical plant in a low-income neighborhood

Senior Emmanuella Oduguwa site-led the trip to New Orleans with Siddhant Shetty.
"In my sophomore year, I started this club called Global Health Initiative and one of the things I believe in and made sure that we did was to [participate in] an alternative spring break trip. [Tiger Breaks] so five members from Global Health Initiative could go on the trip and the other five students could be regular students who are interested in applying," Oduguwa said.
She added that their topic in Global Health Initiative for that semester was environmental justice, so it tied in perfectly.
In New Orleans, they did much-needed manual labor building up a community garden situated in a food desert — a geographic area in which it is hard to acquire affordable and nutritious food — and planted over 100 trees. The group also worked with a local nonprofit in community organizing for environmental justice causes and volunteered with an organization which works to prevent homelessness for hurricane victims.
"We made signs for this march they were planning in April for environmental justice to stop a petrochemical plant being built in a low income neighborhood," Oduguwa said.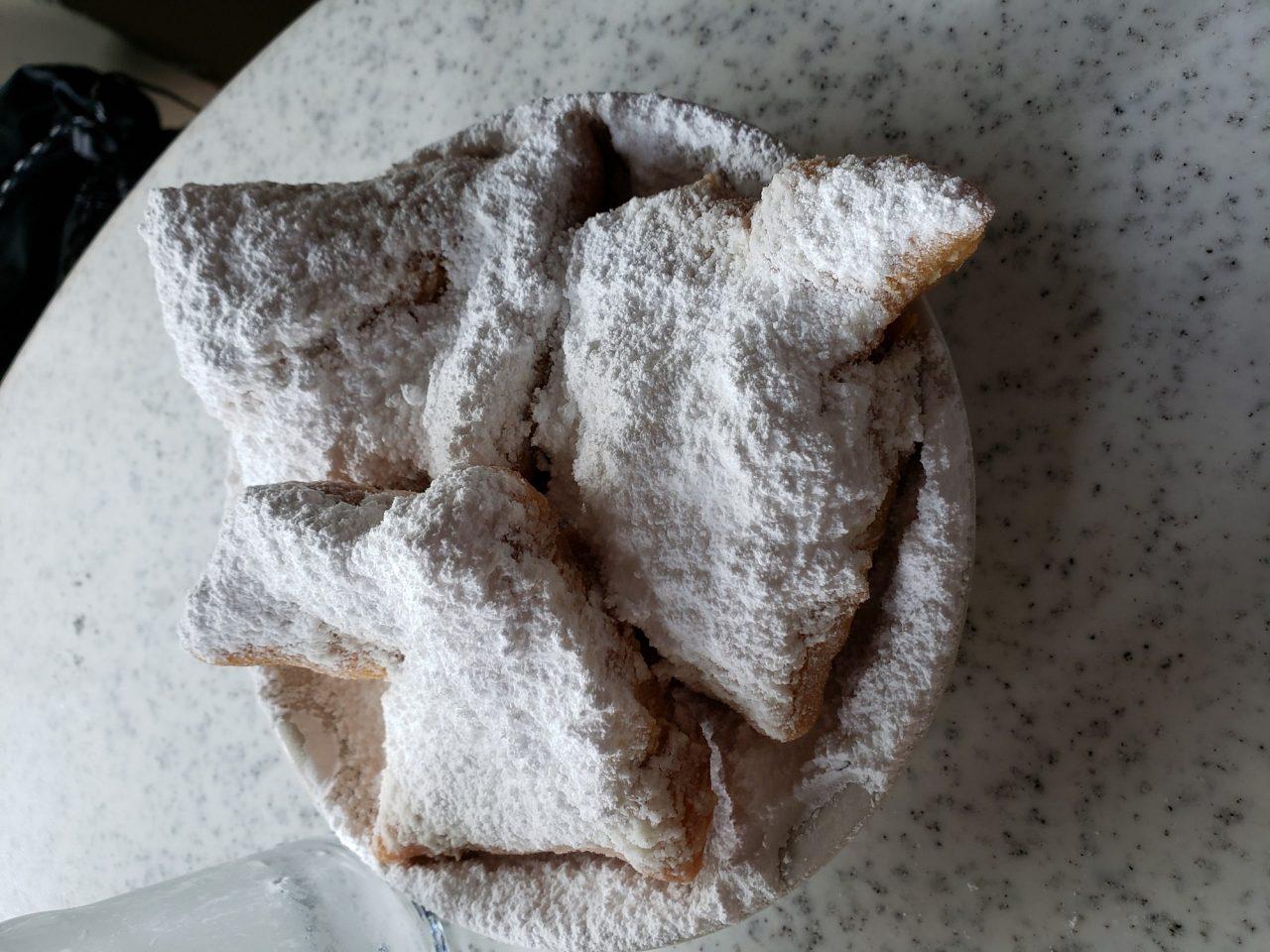 Students on the New Orleans trip got to try beignets, light square doughnuts usually sprinkled with powdered sugar
In addition to volunteering, the cultural exploration aspect of the trip was very memorable and Oduguwa mentioned that she especially loved trying beignets.
Oklahoma City — Homelessness and Poverty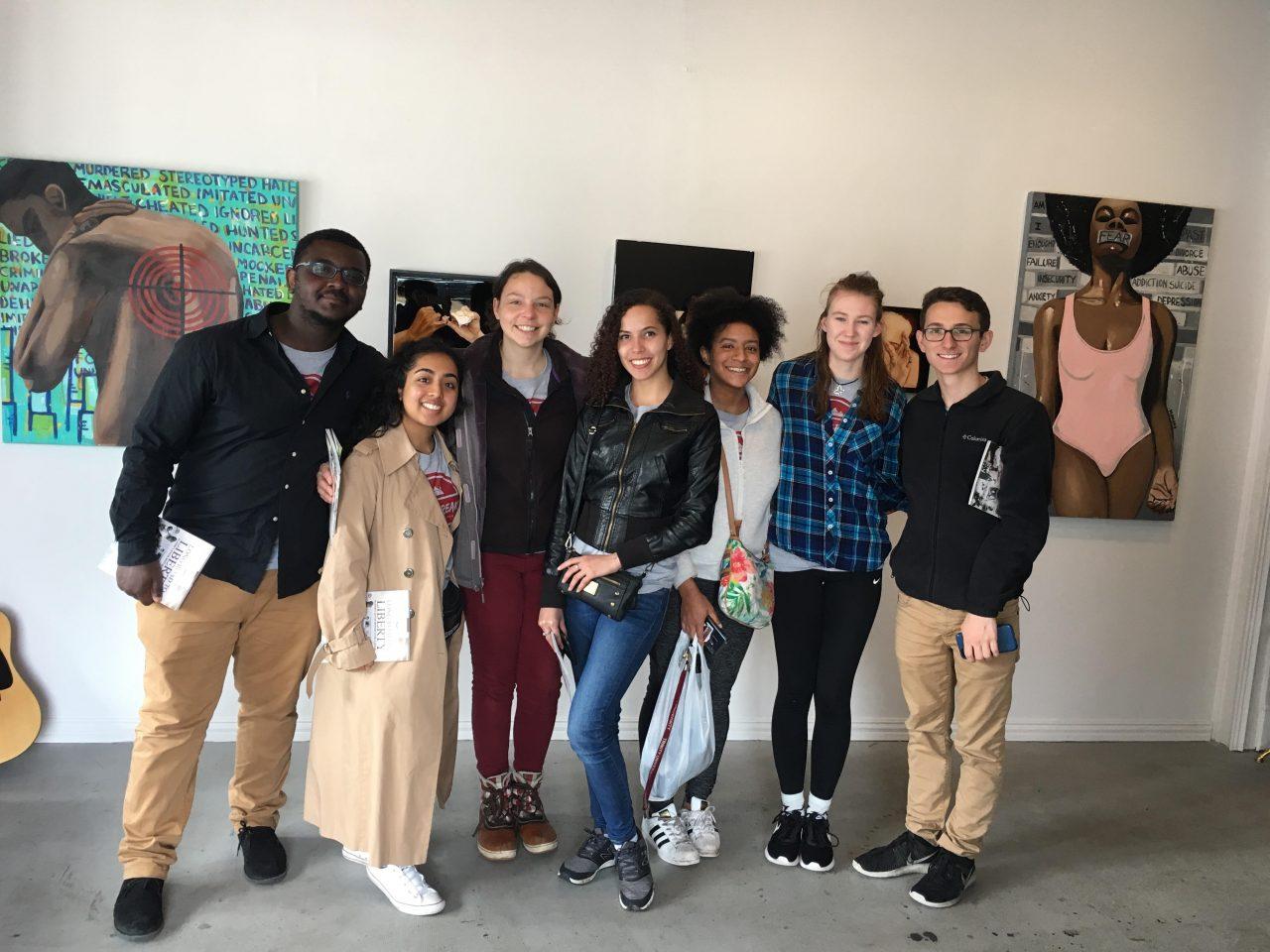 Students on the Oklahoma City Tiger Breaks trip visit art gallery in Tulsa Oklahoma in the Greenwood Historical District
Sophomore Elizabeth Pikul was one of the students who went on the trip to Oklahoma City. She described the service opportunities there.
"We volunteered at food banks, homeless shelters and with Habitat for Humanity and the Salvation Army. We mostly tried to get people food and blankets to stay warm," Pikul said, "My favorite experience from the trip was City Rescue Mission, a homeless shelter there. We got to serve breakfast and work very directly with people, so that was really nice to get to connect to people one-on-one and really see how we were impacting the people we were helping."
According to Pikul, the group was hosted by a Trinity alumni couple who graduated in the 1950s as well as the Oklahoma City Trinity Alumni association.
"One of the alums, who is also on the Board of Trustees, Carey Joullian, took us to an Oklahoma City Thunder [basketball] game on Wednesday, so that was super fun," she said.
As a Spring Break activity, she recommends the experience of Tiger Breaks to other students.
"I would say that it was a very rewarding experience and we had about as much fun as you would have on your regular 'crazy' spring break or vacation. Just telling jokes and helping people, but we were also able to give back."
This trip was site-led by sophomore Chase Watson and Trinity's community engagement specialist, Savannah Helvey.
El Paso — Immigration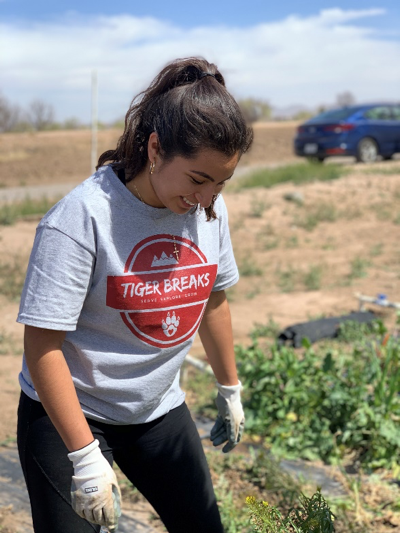 Guadalupe Rivera pulls weeds at at Jardín de Milagros, the community farm that provides produce for El Paso Food Bank
Junior Victoria Carr served as a site leader for the trip to El Paso. This involved coordinating the service by contacting non-profits they could work with and organizing an information session on U.S. immigration issues. Co-site-leader first-year Thomas Peña coordinated the cultural exploration part of the trip.
Because the El Paso trip was new, there was a bit of extra planning and contacts to be found in terms of housing, service and alumni but Carr was pleasantly surprised by the outreach.
"We spent four days volunteering at sites through the Annunciation House, which is a nonprofit that supports migrants who have just been released from ICE detention. We helped with basically everything — food, cleaning, intake," Carr wrote in an email. "Once a bus of families arrives, the shelter does their own intake process, assigns them a room, calls their family to arrange travel, gives them a change of clothes and takes them to the showers. Our participants did various tasks based on their level of Spanish proficiency. The shelters had around 100 new people arriving every day."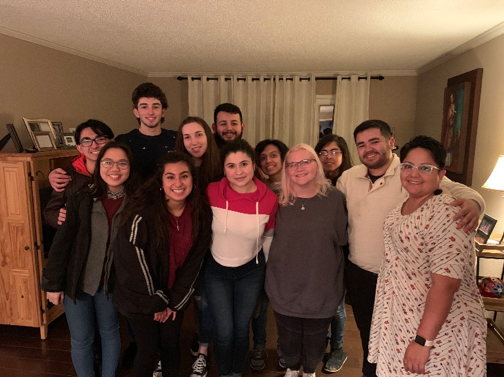 Students were able to eat dinner at the home of Trinity alumni
According to Carr, the group volunteered at Jardín de Milagros — a community farm that produces 100,000 pounds of food annually for the El Paso food bank — on their last day there. They also did some exploring of El Paso and went to the El Paso Museum of Art and the Chamizal Memorial.
Carr enjoyed watching the other students engage at the service sites.
"It was really neat to watch everyone adapt to the needs and try to come up with the best way to serve the Annunciation House during our time there. I really enjoyed getting to watch the participants reflect on how the volunteering made them think more critically about immigration in the US. I also enjoyed being able to watch the students grow as friends over the course of a week," Carr wrote.