Though the football field's brand new 'Boombox' is the biggest scoreboard in the history of Division III football, coach Jeremy Suburban recently announced plans to erect an even larger scoreboard within the next month. The new JumboTron will boast dimensions of 150 by 300 feet and a sound system with the ability to reach over 130 decibels.
"We are very thankful for the donor support that made the Boombox happen, but I have bigger plans," Suburban said at a press conference on Monday.
However, the most unexpected part of Suburban's announcement came when he was asked how the program would fund the new board.
"Unfortunately, the donor support just isn't quite enough for this one," Suburban said. "We will have to divert funding from other aspects of the team."
The funding for the new scoreboard, which some have referred to as the 'Midlife Crisis,' will come from the team's budgets for travel, uniforms, equipment, recruiting and staff salaries.
"There will be some significant sacrifices that will be made so this board can happen," Suburban said. "I may no longer have a job, but Trinity will be known nationwide for its commitment to its fans' audio-visual experience."
Suburban's public announcement was the first that many players had heard of the upcoming changes to the program.
"At first I thought he meant we would just have to play naked, and I was like, 'Yeah, alright, I'm down.' But apparently, we aren't playing at all," said junior lineman Mobile Holmes.
Junior lineman Blady Branton didn't seem too concerned.
"I mean, I came to Trinity to play football, but I think it will be worth it," Branton said. "Not to be cocky, but it's not only about having a rock hard defense and a thick o-line. In order to be the best in DIII, you got be the biggest in DIII. There's no question."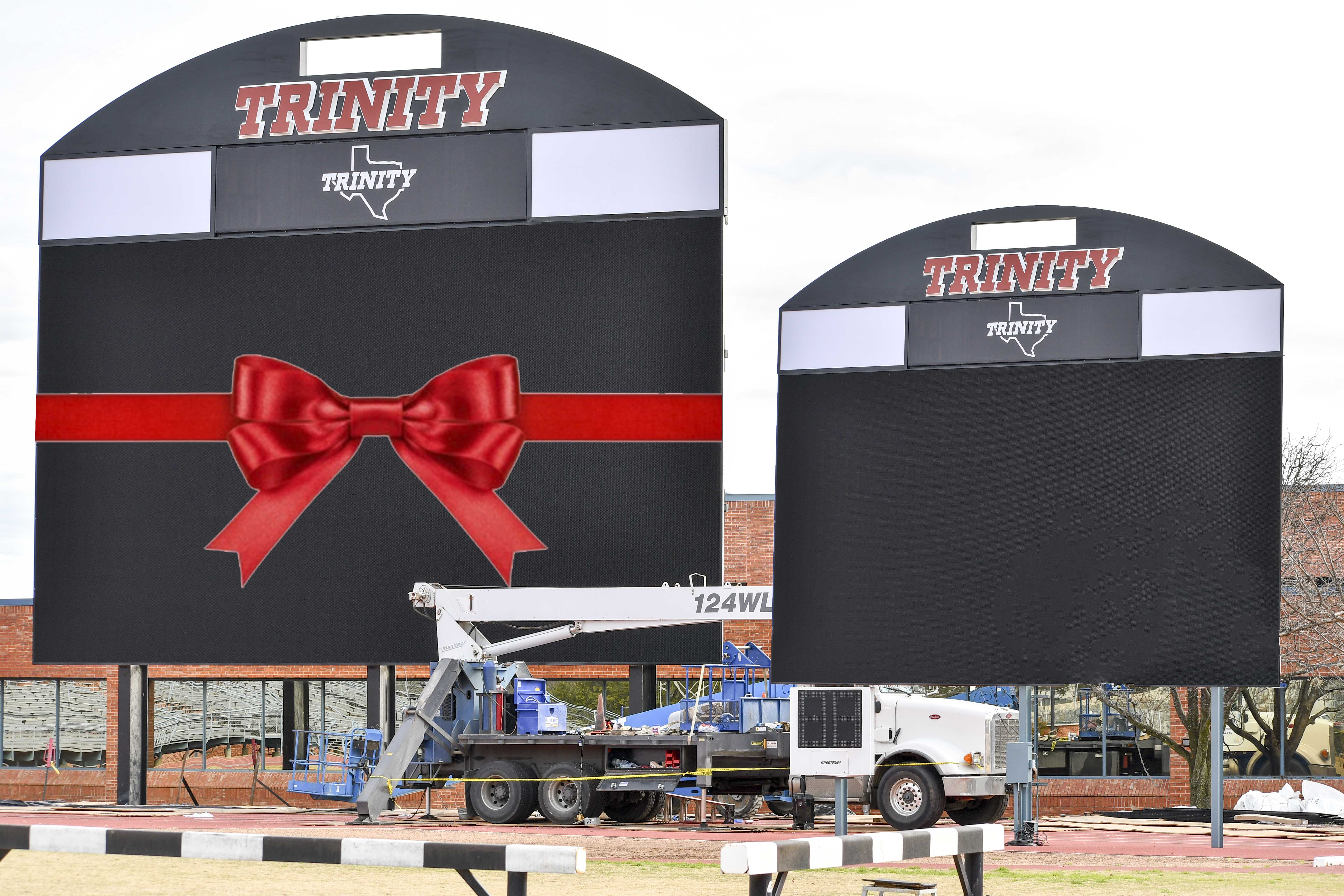 At schools with successful football programs — and even at schools with weaker teams — football can perform as a recruitment mechanism for students, whether they play the game or enjoy supporting the team. Eric Spaloof, director of Admissions, did not express any worry that Trinity's numbers could drop.
"I think the new board will bring even more support for the program, and ultimately the school," Spaloof said. "Everyone will want to come to Trinity just to see the biggest board in the division, and when it comes to attracting potential students, size matters."
However, when asked what they planned to do without football, players seemed at a loss.
"Maybe I'll try baseball. They could use a strong arm," said quarterback Brad Whoeven.
"I think I'll just go home," Holmes said.
With the football team gone, another major concern is what will happen to the Bengal Lancers, a fraternity that has traditionally only extended bids to football players.
"Everyone should be relieved to hear we aren't going anywhere," said Johnny Touchdown, Lancers' president. "We might have to expand to, you know, the rugby team or something, but we are here to stay."
While the team may no longer exist, the Tiger stand band and cheerleading team will continue to come out every game day to support.
"I think it's important that while we acknowledge that the team was disbanded, that we also continue to support the program and the scoreboard," said cheerleader Julia Tucker.
Others were not so polite.
"I'm glad they're gone," said Thomas Brass, a trumpeter for the stand band. "Now we can finally change the TV channel in Mabee."
This is a work of satirical fiction produced for the 2018 issue of the Trinibonian.